Top Home Coffee Roasters For Your Perfect Brew
If you love coffee, you can easily identify a good cup from a bad one. You may have gone hunting for the best cafe wherever you go. Although that is a great experience, if you love coffee so much, you might as well invest in a home coffee roaster.
Don't be too intimidated. Using a home coffee roaster may seem daunting, but all you need to do is follow the manual, and voila! Your java cup is served!
Brewing Your Coffee At Home
You may be wondering why you have to consider roasting your coffee when you can easily just drop by a cafe or order online for one whenever you have a craving. 
Like many other foods and drinks, that special attention given to it during preparation at home elevates the overall experience, from the flavor to the freshness. It is a plus that doing so will allow you to enjoy a cup of freshly brewed coffee any time of the day. You can brew on demand.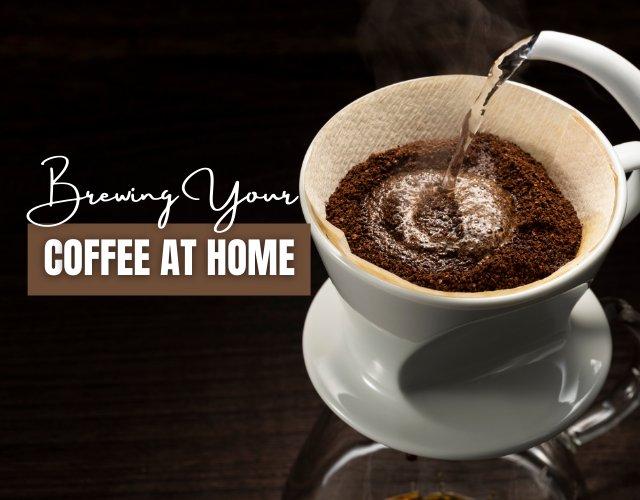 Things To Consider Before Roasting Your Coffee
The idea of getting a home coffee roaster and preparing your coffee fix is so exciting. It could lead you to overlook some important things. When roasting coffee, there are three things that you must carefully consider:
Coffee beans -

you have to choose which variety to buy carefully. There is a wide array of choices for coffee beans, and each one often complements a certain way of brewing.

Coffee grinder -

coffee grounds can hugely affect the final taste and texture of your coffee. Keep a grinder at hand so that you can adjust when necessary.

Right cup -

measurement matters. Make sure that you are brewing the right amount for the cup that you are preparing.
Top Choices for Home Coffee Roasters
Making this home coffee roasters review is our contribution in helping you narrow down your choices from the numerous options out there. It can be overwhelming to choose, and there are so many things to consider when getting one.
We did our best to cut to the chase and just focus on the features that would matter. The shortlist of recommended home coffee roasters will give you just the right number of selections so that you can make an informed choice.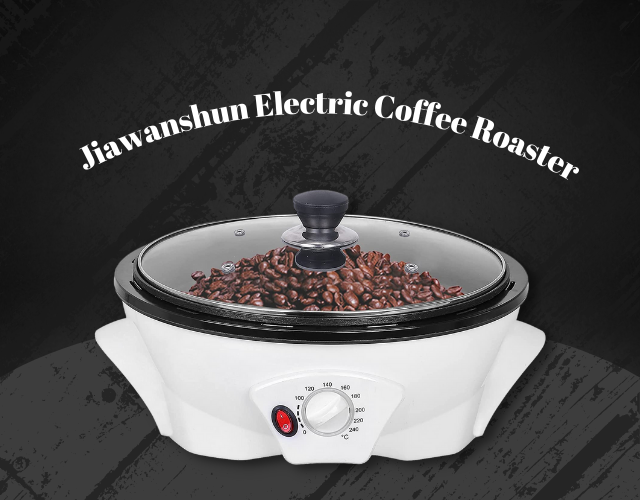 Jiawanshun Electric Coffee Roaster
What you will appreciate about Jiawanshun Electric Coffee Roaster is its sleek design and the non-stick chassis that makes it so easy to keep tidy. It is also quite affordable for many people, as it is mid-ranged. 
The two models available for this particular brand give you a choice between 110 and 220 volts. It can roast between 212 to 464 degrees Fahrenheit, which is 100 to 240 degrees when converted to Celsius. A setback for this brand is that its temperature control unit is only measured in Celsius. 
You can use this home coffee roaster to prepare up to a little more than a pound of coffee per batch. Its temperature automatically adjusts so that there is an equal distribution of heat throughout the process. 
Another plus for this is that you can use it for purposes other than roasting coffee. You may also roast peanuts with it or pop some popcorn. Isn't that great?
Kaldi Wide Home Coffee Roaster
Often, if we want premium quality, we have to pay the price. This Kaldi Wide home coffee roaster is among those at the higher price range for countertop home coffee roasters, but you will never regret the investment. 
At face value, you can tell that it is not just a simple machine. It looks professional and equipped with advanced features that will take your java cup to the next level; only a few alternatives can be at par with it. 
Its body is sleek and strong, built with a thermometer, probe rod for measuring, bean hopper, and a compartment that collects the chaffs. It can roast around 300 grams of beans. You will need a gas burner as a heat source for this, although it also comes with a volt adapter. 
Nuvo Eco Ceramic Handy Coffee Bean Roaster
If you are not up for the high-tech option, perhaps this manual home coffee roaster is what will appeal to you. The Nuvo Eco Ceramic Handy Coffee Bean Roaster is the best choice for those who want to keep it simple yet add a personal touch to every cup.
Great coffee is more than just a cup. The journey getting to that flavorful java adds to the total satisfaction that you will get. This roaster requires only two things, fire and you. Yes, you will have to move to get the beans roasted, and the technique is simple. You can even dance to it!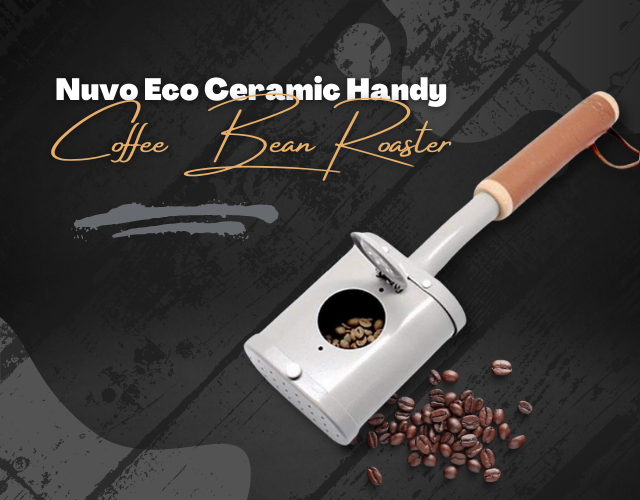 It can hold up to 70 grams of coffee, so if you require a second serving, you can have one. It gives that feeling of coziness and intimacy. It also brings out that artistic side of you. If you are a traditionalist or sentimentalist, you might have found the perfect roaster for you in this brand.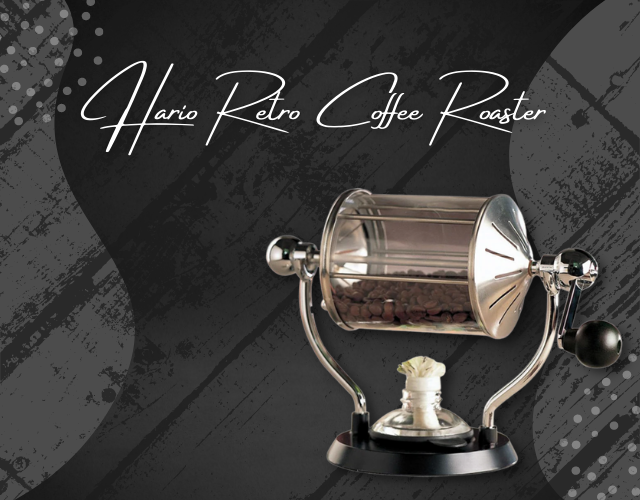 Hario Retro Coffee Roaster
There is a lot of difference between just receiving a cup of joe served by a waiter or handed down from the drive-thru, and the experience of roasting it yourself, especially if what you will use is the Hario Retro Coffee Roaster.
The heat source for roasting is an alcohol-based open flame. As the name implies, roasting is done retro style. You have to turn the roaster manually until you get to the doneness you are aiming for. 
This Japanese home coffee roaster goes beyond dedication. It is an art. With just 50 grams of beans able to be accommodated per batch, you must be a very patient person to enjoy it. Its unique design is very lovely; when not in use, you can have it as decor.
Dyvee Coffee Roaster Machine
If you want a home coffee roaster that is easy to tinker with, then try the Dyvee Coffee Roaster Machine. It is a sizable machine, which can hold up to 400 grams of coffee beans at a time. However, it would work best to increase the quantity gradually or do 200 to 300 grams per batch. 
You will need a gas stove for this roaster. What is great about it is that you can see what is going on while it is roasted because of the transparent quartz drum. It is durable since its frame and base are made of steel. It is quite versatile. Aside from coffee, you may also try roasting other nuts and seeds with it. 
Nesco 4818-12 Classic Roaster Oven
Now, let us go to the bigger side of things. This Nesco oven roaster can give you enough finished product to go around a dinner party. It is equipped with advanced capabilities but is sold at a very reasonable price. Considering that you can roast even a whole turkey with it, this home coffee roaster is worth the investment.
It can hold up to 17 liters or approximately 18 quarts of whatever it is you'd like roasted. It can heat up to 232 degrees Celsius (450 degrees Fahrenheit), and the power capacity is 1425 watts. It is a heavy-duty machine that can surely deliver your demands. Just be sure to give it enough space on your counter as it can be a bit bulky.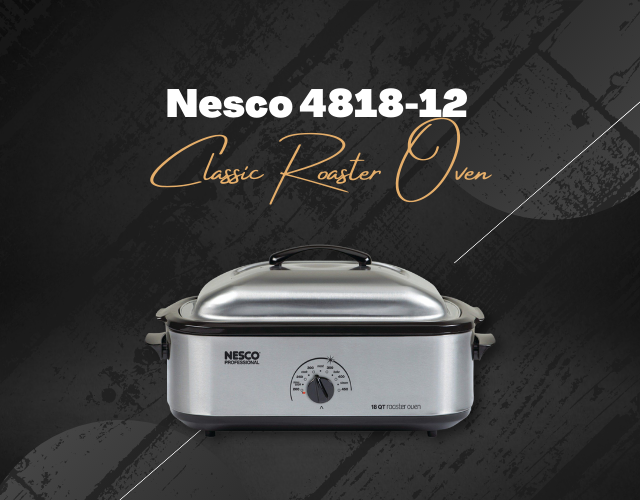 French Roast SR540 Coffee Roaster
Style and durability are what you can expect from the French Roast SR540. This home coffee roaster is a perfect size. You can easily find a space for it on your countertop. But despite the size, it is also very efficient. You can keep roasting with it until your golden years. 
Although on the smaller side, this home coffee roaster has several advanced features such as the real-time temperature display, temperature settings, and different fan levels. It is very user-friendly and is easy to maintain. It can hold up to 120 grams per batch, so you will have enough to share. 
Cafemasy Coffee Bean Roasting Net
When you think of a home coffee roaster, your imagination might take you to the fancy machines you would find at coffee shops, only simpler. Well, nothing can even be simpler than the Cafemasy Coffee Bean Roasting Net that you might even wonder if it will do the job.

As the adage goes, "do not judge a book by its cover," and that applies perfectly to this home coffee roaster. It looks so much like a small kitchen container, but it does a roaster's job perfectly. It gives you more control of the process, allowing you to achieve the type of roast you are going for.
It is so easy to use. Just fill the stainless wire mesh with 1.8 ounces or about 50 grams of beans and set it on top of a burner flame. It is highly recommended for small-capacity java drinkers. 
Great Northern Popcorn Stainless Steel Stove Top Popper
This home coffee roaster is another option that could appeal to you for the sake of adding experience to roasting your cup of joe. It is a high-capacity roaster, which requires you to be hands-on, literally.
Enjoy it like the old times, or go rough like a cowboy. This roaster is so easy to use and is very versatile. It has a built-in stirring system, which will allow you to roast your beans to perfection. Being stainless makes it easy to clean. You can also use it to make some popcorn. Oh well, the name is already a clue to that. 
So, there you go. That was our short list of home coffee roasters you can choose from should you decide to invest in one. If you love coffee too much, we suggest you consider buying one. If you are still on the fence on whether to roast your java or not, let's tickle your curiosity further so you can decide.
Why Choose to Roast Your Coffee?
If you are just a regular coffee drinker who does not care what is in your cup, you probably won't appreciate why you need to go the extra mile and roast your coffee beans. However, if you are like us, who consider coffee an adventure, then you will understand.
Here are three advantages of roasting your coffee beans. For sure, there are more, but we just want to highlight these three: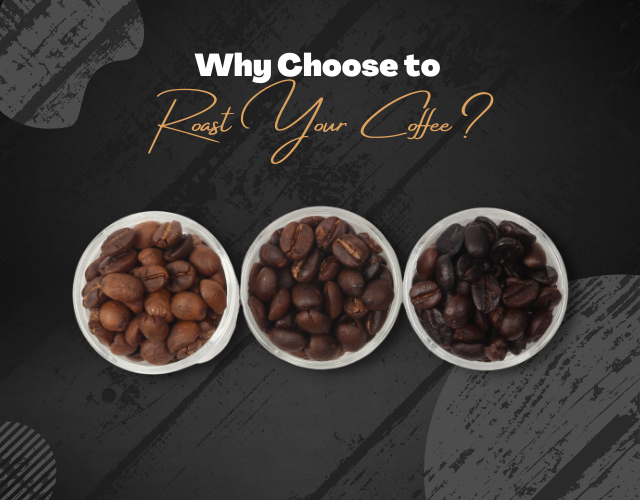 Mix and Match
When you buy from the shops, you are offered choices and concoctions based on other people's preferences. When you do it yourself using a home coffee roaster, you have the liberty to choose which coffee bean variety to use. You can explore, experiment, and find that perfect combination that you can call your own. You can even name it after yourself. Wouldn't that be cool?
Control of the Roast
One of the factors that help make homebrew excellent is the quality of the roast. Using your home coffee roaster, you have the power to choose the time and the level of roast you want to achieve. It can be light, middle, dark, or however, you want it to be. No one can dictate to you but yourself. You can personalize it as much as you want, and no one would complain.
The Fun of It
Lastly, but perhaps the most important one, is that you get to enjoy preparing your coffee when you do it yourself. As we keep on saying, experience adds to the way you enjoy every cup. You, being part of the whole process, will make every successful brew a source of celebration. It is a great use of your precious time and can get some of the stress off your shoulders.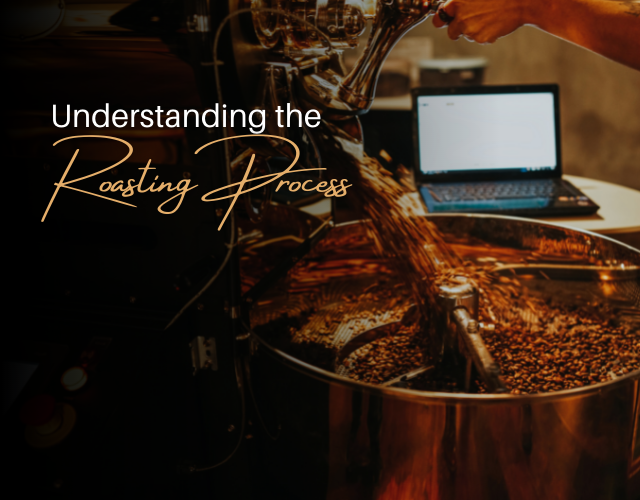 Understanding the Roasting Process
Now, it is easy to say, "go, on roast your coffee beans," but you must not jump in without understanding the different levels of coffee roast. You need to know what is happening during the process not to freak out as it transitions from one stage to another.
Let us now walk you through the different levels of coffee roast.
Level 1: At the beginning of the process, you will have a bag of green coffee beans. It will remain this way for a short period once you've put them in your home coffee roaster.
Level 2: As the temperature increases, the beans will start to turn yellowish. You will also notice a grassy smell.
Level 3: As it gets even hotter, you will see steam slowly forming. That is from the evaporation that is taking place. There are ways to suppress the steam, but it cannot be eliminated.
Level 4: As the moisture evaporates, you will also hear tiny cracking sounds. That is the first crack. The beans are expanding while the sugar is caramelizing. You will notice the change in color of the beans to medium-dark.
Level 5: The second crack is slightly louder than the first and would show somewhat darker beans. At this point, you may even see oils starting to surface. If you want a dark-roasted coffee, you may consider going on a bit longer in the process. However, you have to tread lightly as overdoing it could result in bitter-tasting coffee.
Level 6: This is the stage that you should avoid getting to as this means your beans have burnt. Once you hear the second crack, you need to ensure that you will stop the process and turn off your home coffee roaster.
A Wise Piece of Advice About Roasting your Coffee.
When using your home coffee roaster for the first time, you should observe closely as you move from one level to the next. As a safety precaution, once you have heard the first crack (level 4), give it more or less a minute, then it would be good. That will already give you a medium roast.
That would be your basis on the succeeding roast if you would like to adjust, whether going to the lighter or, the darker side (of roast). You have to gauge your tolerance for the taste. The safest, as we've said, is to reach level 4. 
Stop too soon, and you'll end up with a "blonde roast," but going too far can render your beans futile as they could burn.
The medium roast is also the point where the flavors begin to get extracted. It is when they combine to create that perfect medley of flavors that you hope to achieve. That is not to completely discourage you from going for dark-roast as it is still up to you. We just want to give you this tip so that you can maximize the enjoyment of your cup. 
Home Coffee Roaster Alternatives
There are different kinds of roasters that you can use as an alternative to the traditional home coffee roaster. Here are some of them
Air Roasters - 

This kind of roaster uses convection technology or direct heat. Air circulates inside the chamber to produce a steady amount of heat that will be even throughout, resulting in evenly cooked beans.

An air roaster can be quite smaller in size, so you might be limited to working on small batches at a time.
Popcorn Makers - 

Some home coffee roasters can cook popcorn, so it is also possible to do it the other way around. Popcorn makers are not the perfect tool for this purpose, but should you run out of options.

You can give it a try. It is an ideal choice for those who are not yet fully convinced if they would go all-in on roasting their coffee beans or not. 
Drum Roasters - 

Conduction, or the use of indirect heat, is the process used in drum roasters. It entails that the coffee bean gets roasted upon contact with the heated surface.

The mechanism involves continuous rotation so that the cooking is evenly done. This option is best for those who want to do bigger batches. 

Additional Considerations - 

When making your final decision on which home coffee roaster to buy, it would be helpful to consider the following points.
Amount of Roast - 

It is crucial that during the time of decision making on which of the above home coffee roasters to choose from that you already know the purpose for why you are buying it. One major consideration is the quantity.

How much do you intend to roast regularly? How many will benefit from it?

The different choices vary in the number of beans that they can hold. If you choose a small one, you might end up doing several batches just to meet the daily demands. If it is too big, it could easily get you to level 6 if you are not careful enough.
Storage Space - 

Coffee roasters come in different shapes and sizes. Consider your counter or storage space since this is an additional tool you will bring into your kitchen.

Will it still have room? Can it be used conveniently with the space provided? You need to know this so that you don't end up crowding your kitchen space. 
Cooling Feature - 

If you are serious about roasting, you may want to consider going for a home coffee roaster that has a bean cooler. You see, even after you take the coffee bean out of the heat, the cooking process continues because the bean's internal temperature remains high.

It is also the reason why we suggest not to go too far beyond the second crack. If the beans remain hot, they can turn darker, over-roasted, or unevenly cooked. 

Tip:

Should you fail to get a coffee roaster with no cooling feature, check out the Dyvee Electric Coffee Bean Cooler.

It is built with a powerful fan that can cool the beans down in no time. 
Is it Cheaper to Roast Coffee at Home?

If you are a regular or frequent coffee-drinker, and if some members of your household also are, then the answer is yes. Fresh coffee beans are cheaper, and you can have more cups with them at a lower cost. You can also mix and match, as we said earlier. Thus, you can enjoy various flavors without having to invest separately in each of them. 

What Are the Dangers of Roasting Coffee?

There is always a potential danger in cooking. In terms of coffee roasting, it can produce too much steam or fumes, leading to suffocation. Getting burns may also happen. However, knowing the basic dos and don'ts is enough. Do it in a well-ventilated area, or if you have an exhaust fan, use it when roasting, use kitchen mitts, etc.

How Long Should I Wait After Roasting?

Degassing is the process wherein the bean has to allow carbon dioxide to be released before brewing. The length of time varies; it can be two days or two weeks, depending on the beans. Check the manufacturer's instructions to be sure. Although some people brew their coffee once they have cooled down, we highly advise that you wait. Patience is a virtue, and it helps even enhance the flavor of the beans. 

Should I Go For Shiny Coffee Beans?

There is an ongoing debate on whether shiny coffee beans are better than those otherwise. Some would say that the shininess determines the natural oil content of the beans, which adds to the flavor. There must be some truth to it, but it is not always the case. We recommend that you try a bit of each variety until you find the one that you like best.

Not in the sense that they will make you sick, but roasted beans can begin losing their flavors when left for a long time. Again, check the manufacturer's instructions for this. Once you are past the degassing phase, grind and brew your coffee already so that you can enjoy the full flavor of your labor.

Are Home Coffee Makers Expensive?

It depends on what you will pick. The price largely varies. The manual ones would often cost much less than those that have automatic functions. Although price is a good consideration when purchasing one, we suggest that you give more weight to the other factors discussed above.
Start Your Coffee Roasting Journey Now!
A cup of coffee is more than just a thing to get you through at breakfast. It is your fuel to be up all day. It is your perfect companion at night, your comfort during your me-time, and so much more. Coffee is more than just a cup; for many people, it is an experience. It has a story.
Getting a cup done by others is great, but roasting your java is even better. If you want to add more depth to every coffee moment, you better start doing it yourself. A home coffee roaster is your reliable partner in doing this job. 
Make your home a place where people gather to have that wonderful coffee time. You can save on money, on time, and you get to enjoy your favorite flavors no matter what time of the day. So, what are you waiting for? Check out Lifeboost Coffee for the healthiest and tastiest coffee and get started roasting!
Enjoy your cup!
10% OFF our entire store with coupon code "10OFF" at checkout
MEDICAL DISCLAIMER
This content is for informational and educational purposes only. It is not intended to provide medical advice or to take the place of such advice or treatment from a personal physician. All readers/viewers of this content are advised to consult their doctors or qualified health professionals regarding specific health questions. Neither Dr. Charles Livingston nor the publisher of this content takes responsibility for possible health consequences of any person or persons reading or following the information in this educational content.
All viewers of this content, especially those taking prescription or over-the-counter medications, should consult their physicians before beginning any nutrition, supplement or lifestyle program.