Dual Coffee Maker with Single Serve Option
If you are living alone, you don't have a problem choosing between buying a single-serve and dual coffee maker.
But if you are living with roommates or family, it might be a little more complicated. In this case, you would be better off with a two-way or dual coffee maker. 
It will be more convenient and versatile. It can meet the different coffee needs of several people living together. 
Also, it avoids unnecessary waste. 
Benefits of the dual coffee maker
If you're contemplating if it is worth it to buy a dual coffee maker, these may give you an idea of how helpful it will be in the kitchen. 
Two-style Brewing option - You have the choice to brew a single serving or brew for a whole pot of coffee. The capacity of the carafe depends on the brand and model. 
Cheaper in the long run - It comes in a complete kit. It will save you from buying individual and separate coffee-making tools. Most of the time, using drip brewers can lead to a stale and cold coffee brew.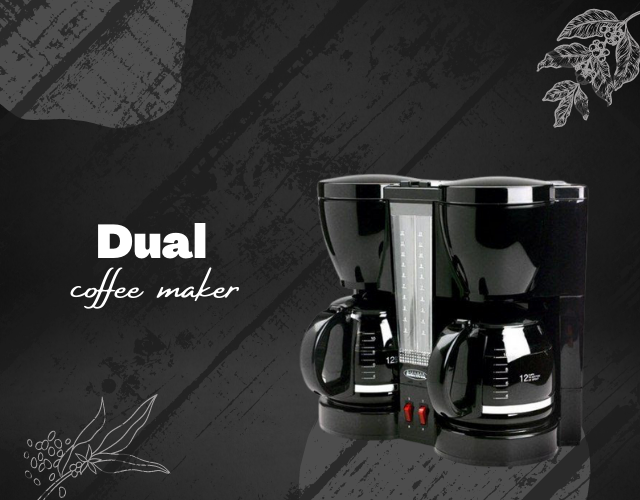 It is a waste because it often goes down the drain. Being able to brew a single cup of coffee for one person will help you save. 
Different Schedules - Owing to its versatility, dual types cater to a household with different morning schedules. 
Frequent Guests - Single people can also opt for a dual coffee maker. If you have a busy house where friends and family frequently show up, you may need a large pot. 
Most convenient and innovative dual coffee maker with single-serve option
Considering their features, this is our take on the best dual coffee maker models available in the market.
1. Hamilton Beach 49976 FlexBrew Coffee Maker
Undoubtedly, some of the best espresso and coffee machines are created by Hamilton. FlexBrew is an example of their high-quality products. 
Features
Even if it's bulky and pricey, the user-friendly FlewBrew is a favorite among coffee lovers. Cleaning and refilling are easy. It features a see-through chamber, that shows you if you need to pour more water or coffee. Another thing is, it can come with a permanent filter, so you do not have to change it now and then. 
Customization
It is easy to navigate the LCD button interface. You can set a schedule so that it will brew coffee at your desired time. Your morning coffee will be ready for you when you get up. Aside from this, you can also choose between bold or regular coffee flavors.
One-cup brewer
The single coffee server is compatible with K-cup, other pod brands, and even regular coffee grinds. The cup rest is also adjustable. It allows you to brew on a tall glass for your iced coffee drinks.
Carafe Brewer
It has a bigger pot than others. The coffee pot can hold up to 12 cups of coffee for each brew. The hot plate can maintain the temperature of the pot for up to two hours. The only issue with the FlexBrew is the material of the carafe. It's made of glass. (Find out below the disadvantages of glass pots) 
2. Ninja Hot and Cold Coffee Maker (CP307)
Ninja CO307 is compact and versatile. 
Features
At first glance, it may not look like a dual coffee maker because it only has one brewing side. But it can provide two brewing options. One of the best features of this model is the thermal carafe that can hold 10 cups of brew. It can keep our drink warm for several hours. It also has separate baskets for tea and coffee, so there will not be any contamination.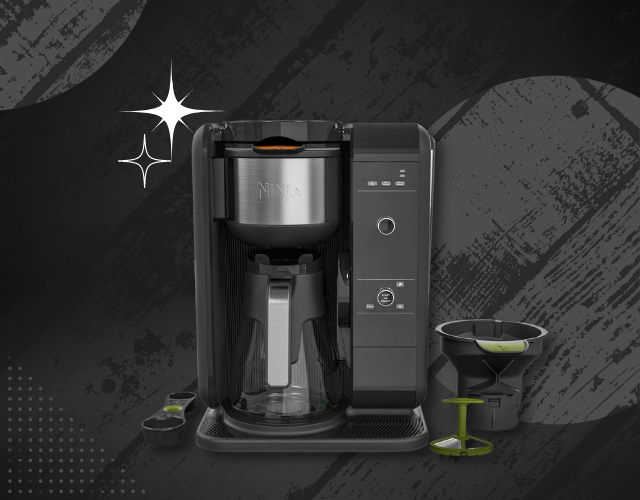 Brewing sizes
Unlike ordinary coffee makers, this model is more flexible when it comes to brewing sizes.
You choose six brewing sizes:
· Cup
· Cup XL
· Travel mug
· Travel mug XL
· Half carafe 
· Full carafe
Brewing styles
Having an option for hot and cold drinks makes it a popular choice. It can use any brand and kind (loose or bagged) of coffee or tea. 
It also has five different brewing styles:
· Classic
· Rich
· Over ice
· Cold brew
· Specialty
Accessories
 CP307 comes with several accessories that include:
· Frothing wand
· Special basket filter for tea
· Recipe book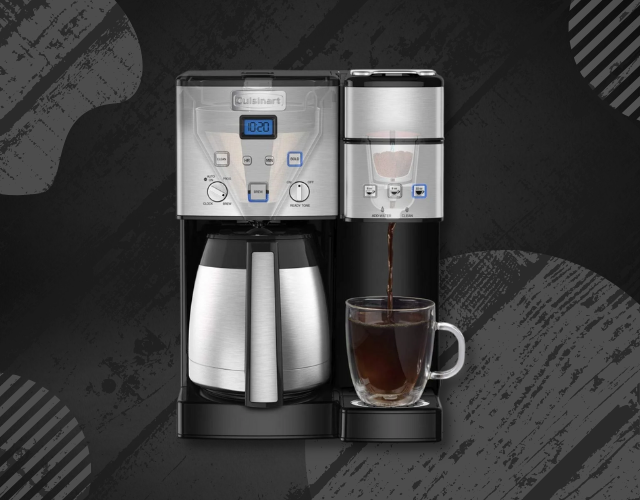 3. Cuisinart SS-20 Coffee Maker
Cuisinart SS20 has a smooth modern look with a button interface input that is easy to navigate.
Features
Single Cup brewer - The single server comes with a HomeBarista reusable filter cup. It lets you use your choice of coffee like the K-Cup pod. It has three brewing sizes (6, 8, and 10 ounces). Also, you can remove the drip tray and brew over your travel mugs to avoid a mess.
The single server uses a charcoal water filter.
Carafe Brewer
This coffee maker comes with a thermal carafe that can hold 10 cups. The carafe side has a brew-strength control and a 24-hour brew start option for a strong coffee flavor. It also uses a gold-tone filter that only adds to the strength and pureness of the coffee. It has an alert system that lets you know when your coffee is ready.
When it comes to maintenance, the Cuisinart SS20 has a self-clean option. You can also see if from the water window if it needs a refill. 
4. De'Longhi BCO430 Combination Brewer
De'Longhi is a trusted brand when it comes to quality coffee makers. The BCO430 is no different. You can expect to have a strong and delicious coffee drink from both its brewers. 
Features
It is not an ordinary dual brew machine. It is a combination brewer. Instead of the single-serve cups like most dual brewers, it has a small espresso machine. And what is more, it comes with a frothing wand.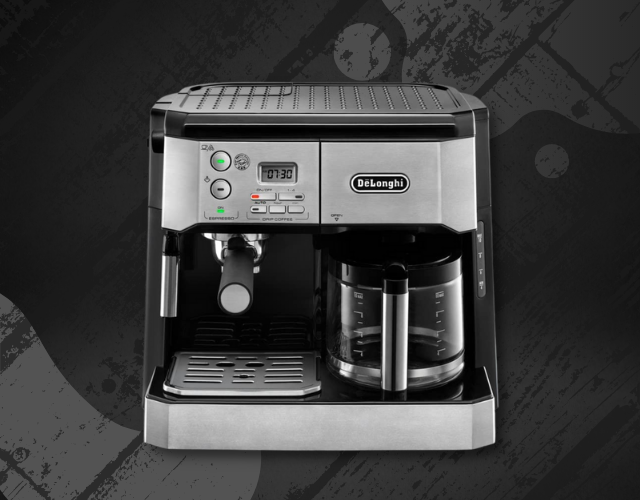 This coffee maker is ideal for people who love both espresso and drip coffee. It is much cheaper than buying a full-blown espresso machine. 
Espresso maker - This model uses a15 bard pump pressure to create smooth and rich espresso. 
Carafe brewer - Like the Cuisinart SS20, it has a 10-cup drip carafe that uses a gold-tone filter.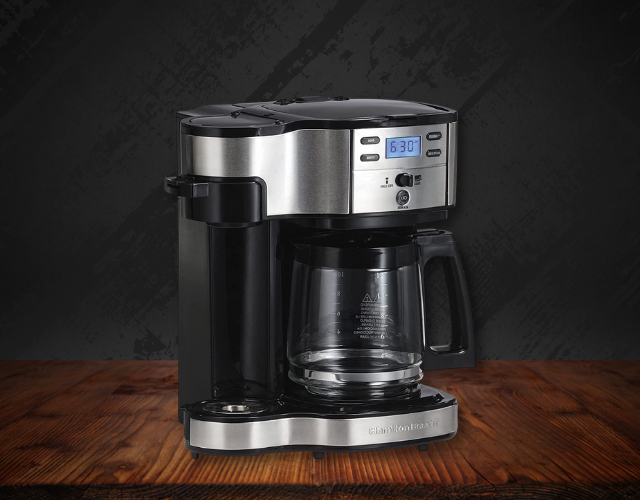 5. Hamilton Beach 49980A Two-way Brewer Coffee Maker
We can not help it. Hamilton Beach produces many top-of-the-line coffee makers.
Features
If you prefer to lose ground and soft pods, and this model is perfect for you. The 49980A two-way brewer is like the FlexBrew model but is so much cheaper. You can buy it for half the price of the FlexBrew. It has a 2-hour shut-off time for safety measures. You do not have to keep wondering if you turned it off on your way to work. Its only issue is its incompatibility with K-cups.
 Single Cup Brewer - The single brewer comes with a mesh scoop and allows you to brew over a tall glass. But it does not come with a single-serve cup. 
Carafe Brewer - It has a 12-cup glass carafe. Both the single cup and pot brewer have a 2-strength option (regular and bold). 
6. Cuisinart CHW-12 Coffee Plus Two-Way Coffee Maker
Another Cuisinart. But this model is unique. If you are strictly a coffee drinker, you may want to skip this.
Features
On one side, it has a carafe brewer for coffee. On the other side, instead of a single brewer on the other side, it has a hot water dispenser. For some, this is a disappointment, but it can be handy. The dispenser gives you access to hot water in a few short minutes. You can use it for making teas, hot cocoa, soup, or oatmeal.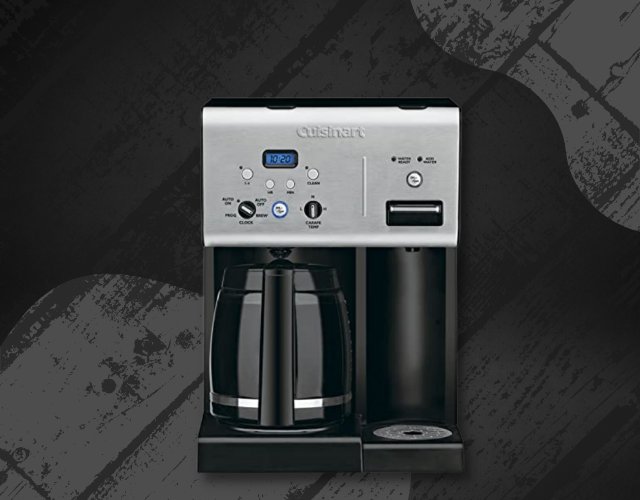 Hot water dispenser - This side of the machine has a separate power button. It can function separately or simultaneously with the coffee brewer. It also has a separate 54-ounce water reservoir.
Carafe brewer - It can brew up to 12 cups at a time. The hot plate at the base keeps the brew hot for several hours. 
What to consider when buying a dual coffee maker
Here are some points you might want to think about in picking the best dual coffee maker that will suit your needs.
Flexibility - Your main purpose in getting a dual coffee maker is to have the most functionality from one product. If it's not able to meet all your needs, then it's not for you. Flexibility can be seen in the brewing settings and size options available. 
Brewing Settings - If you're a java fanatic, the first consideration is the brewing options. Some of the products we listed only have two brewing options. If you're looking for a more flexible product, then you will need to consider a higher budget. 
Size Options - Just like brewing settings, dual coffee makers have varying size options. If you're living alone, limited-size options may work for you. But if you are living in a large household, a varied cup size may be the best choice. This is also true for office settings. 
There are also coffee makers that can customize the number of cups to brew in the carafe. One example is the Ninja Hot and Cold Coffee Maker (CP307). It is the most flexible model we listed when it comes to brewing sizes. 
Space - Unless you have a big kitchen, you will most likely opt for a product that will take up the least space. The issue with dual coffee makers is that they are bulkier compared to two separate appliances. It would take up much space on your countertop. 
It would be helpful if you check the measurements of available space in your kitchen before you buy. This includes the surface area and under-cabinet space. 
Remember you're going for the two-way coffee maker for convenience. It defeats the purpose if you have nowhere to put it and it just adds to the clutter in the kitchen. 
Here are the dimensions of the coffee machines that we listed above:
Hamilton Beach FlexBrew: 11.4 x 12.2 x 13.7 inches
Ninja Hot and Cold: 11.8 x 10 x 15 inches
Cuisinart SS-20: 10.8 x 10.8 x 14.5 inches
De'Longhi BCO430: 14.5 x 11 x 12.8 inches
Hamilton Beach 49980A: 10.6 x 12.2 x 13.7 inches
Cuisinart CHW-12: 10.2 x 9.5 x 14.3 inches
Thermal Carafe vs Glass Carafe
Here is why the thermal carafe is better than a glass carafe. The carafe serves two purposes. Those are to store your coffee brew and to keep it warm. Now for the glass carafe, it uses a hot plate on the base, which heats your brew. It is okay if you or your housemates will drink the coffee in under 20 minutes (more or less). 
But if left for more than that time, the coffee will become burnt, and the taste will no longer be as good. A thermal carafe does not have this issue. It is made with double stainless steel. Because there is a vacuum between the walls, there is no air movement which lessens heat transfer. 
So basically, a thermal carafe is designed to keep your coffee brew warm by keeping the heat inside. While the coffee may not be steaming hot after several hours, at least it is warm and unburnt.
But dual coffee makers with glass carafes are still ideal because there is a single cup server. Another thing is most products with thermal carafe is pricier.
Frequently Asked Questions (FAQs)
How do you clean a dual coffee maker?

You simply clean it like you would an ordinary drip brewer. But since it is a two-in-one machine, you would need to descale both sides. 

 

You should know that most dual coffee makers are designed to let you run descaling at the same time. so, you don't have to worry about doubled cleaning time.

 

Follow this step-by-step guide in cleaning your coffee makers. 

How to descale your coffee machine?

Mix one part vinegar and two parts cold water.
Pout the mixture in the water reservoir.
Run the cycle with the mixture.
When the cycle is complete, turn off the machine.
Leave the mixture in for a few minutes. The vinegar will act as a disinfectant and will dissolve any dirt, grime, or mineral deposits.
After a few minutes, remove the reservoir and pour out the mixture.
Rinse with water.
Place it back in the machine, pour water, and run another cycle.
Do this last step two steps 2 to three times to completely wash out the vinegar and leftover dirt.
Descaling should be done once a month. 

How to clean the outside?

Wipe the surface of the machine with a wet damp cloth, rag, or paper towel to remove dust and grime.
Do this whenever necessary.

How to clean the accessories?

The pots, baskets, and cups should be cleaned every after use.
Clean it as you would your dirty dishes.
Use soap and water.
Leave them to dry before putting them back into the machine.

What is the difference between K-cups, soft pods, and loose grounds?

It is important to know what these are and how they are different because they can affect your brewing experience. 

 

As you may have gathered from the list we mentioned, not all coffee machine is compatible all of them.

These are coffee pods made for Keurig coffee machines. But they can be used for other brands of coffee makers.

 

Also, K-cups can be bought from third-party retail companies like Maud's.

Soft pods are simply ground coffee wrapped in a small disk-like bag made from filter paper.

 

They are generic. Unlike the K-cups, they are not associated with any specific brand. 

Loose grounds are regular coffee grounds that you use in a drip brewer. You can buy it anywhere.

 

Freshly ground coffee is richer in flavor compared to pods. But if you are looking for convenience, try the pods. Just pop it in the machine and let it work its magic. 

Are there dual coffee makers with grinders?

This is an interesting question. The answer is quite complicated. 

 

Yes, there is but they are not that common. After thorough research, the only one we have come across is a model released by Breville. 

 

Looking at the customer feedback, this model may still need a bit of improvement. 

 

If your coffee routine involves freshly ground coffee, you may want to get a separate grinder. This will be your buddy while we're waiting on an excellent three-in-one coffee-making machine to be released.
Final Thoughts
If you are looking for a flexible kitchen tool the dual coffee makers might just be your answer. Its versatility will cater to different coffee needs, schedules, and brewing preferences in your home and offices. The two-in-one design will help you save space and prevent clutter. 
Also, its multifunctionality cuts the cost of buying two separate kitchen tools. We hope that the list and dual coffee maker model we made help give you an idea of what you're looking for. 
Do not forget the pointers before you buy. Consider your space, the available brewing style settings, and brewing size options. You also have to check what type of coffee is compatible with your choice. 
These will help you find the right fit for your needs. Familiarize yourself with the steps in cleaning your coffee maker. Maintaining its cleanliness will keep your coffee drinks safe. It will also make the machine last longer. 
And one last thing, check out Lifeboost Coffee for the healthiest and tastiest coffee possible. 
Happy Caffeinating!
10% OFF our entire store with coupon code "10OFF" at checkout
MEDICAL DISCLAIMER
This content is for informational and educational purposes only. It is not intended to provide medical advice or to take the place of such advice or treatment from a personal physician. All readers/viewers of this content are advised to consult their doctors or qualified health professionals regarding specific health questions. Neither Dr. Charles Livingston nor the publisher of this content takes responsibility for possible health consequences of any person or persons reading or following the information in this educational content.
All viewers of this content, especially those taking prescription or over-the-counter medications, should consult their physicians before beginning any nutrition, supplement or lifestyle program.