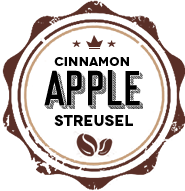 Pure Single Origin Specialty Beans And Delicious Cinnamon, Apple And Vanilla
Discover your "happy place" with a steaming cup of cinnamon-kissed joy!
Few things in this world invoke feelings of coziness and warmth like baked apple pastries laced with fresh cinnamon. More than 500 years ago, Dutch townspeople could savor the tantalizing aromas of apple pastries cooling on kitchen windowsills… much like they do today!