Mocha is one of the best coffee flavors out there. Its sweet chocolatey flavor makes it a fan favorite. Like pancakes, it's a comfort drink. One sniff of this steaming hot drink will warm you up and make you happy all day long.
You will be surprised at how simple and easy it is to make it. Once you learn it, you will never order out again.
Read more about mocha drink and learn how to make it at home.
What is a mocha?
Mocha is what you get when you put coffee and chocolate together. The standard mocha drink is made up of two to four shots of expresso, 1-4 squirts of chocolate syrup, steamed milk, and topped with a thin layer of smooth and velvety milk foam. Mocha is a type of latte.
The proper name is a mocha latte or Caffe mocha latte. In Europe, especially in Italy, you have to use these terms to order. But in America, the name was shortened to mocha.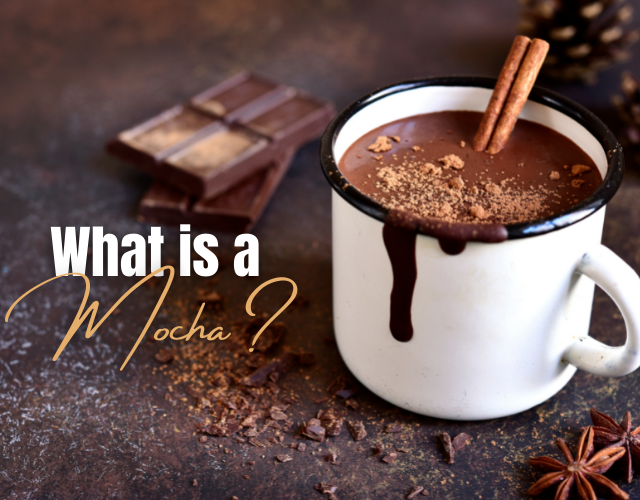 The American created mocha latte, but it was inspired by the Italian native hot coffee drink, Bicerin. The bicerin was first made by Caffe al Bicerin in the 1700s. It contains the same ingredients as Caffe mocha. But the bicerin is a layered drink, whereas the latter is a blended drink.
How do you make a mocha latte at home?
Lockdown has left us stranded in our houses. Running out to get coffee can be a risk. Stay at home and follow these mocha latte recipes. Don't worry. The ingredients are easy to find. If you love coffee, chances are you have everything you need to make it at home.
Steps
Before we begin, make sure you put all the ingredients, including the equipment, within an arm's reach.
a. Prepare your Chocolate
Pump 3 tablespoons of chocolate syrup in the latte cup. Set aside.          
b . Brew your Coffee
Heat your expresso machine and grind your fresh coffee beans into the portafilter. Once the water is hot, hand the portafilter into the brew group. Pour two cups of espresso into your latte cup. Stir slowly. Make sure the chocolate is mixed thoroughly with the coffee to get that sweet chocolatey flavor. Set aside.
c. Steam your Milk
Put 8 ounces of milk in the milk pitcher and steam it up to 165 degrees Fahrenheit. You will know it is ready if you see a decent amount of foam forming.
d. Serve
Pour the steamed milk slowly on top of the chocolate expresso mixture. There should be a thin layer of foam just above the cup.
 Equipment
· Saucepan or pot
· Spatula
· Cup


Steps
a. Prepare your coffee.
Ideally, you should use espresso. But if that is not available in your kitchen, plain old drip coffee can do.
b. Boil a cup of water.
Prop your drip coffee bag on your cup and slowly pour the hot water. Set aside.
c. Make your Chocolate Mixture
Heat the pot and pour the water. Once it is warm, slowly add the cocoa powder. Stir continuously to avoid lumps. Add the sugar according to taste. Pour in the remaining liquid ingredients. Whisk for two to three minutes until a thin layer of foam forms on top.
d. Pour and serve.
*Using chocolate
a. Make a chocolate sauce. First, cut your chocolate bar into small pieces and set it aside.
b. Heat the coffee brew in a pot and add the milk. Throw in your chocolate. Stir and let the chocolate bits melt.
c. Whisk to create foam for the best mocha experience.
d. Pour and serve.
Steps
a. Brew your Coffee
·       Brew your coffee grounds the night before.
·       Heat a saucepan.
·       Add water and coffee grounds. Let it boil for 2 to 3 minutes under medium heat. Stir occasionally.
·       Let it cool down before placing it in the fridge.
b. Making the Iced Mocha
·       Pump 2 tablespoons of chocolate (or more) in the mason jar. Do not worry if it sticks to the side.
·       Add the ice into the jar and pour in the milk and coffee.
·       Place the lid back on and shake for one minute. Make sure everything is mixed together to get a balanced flavor.
c. Serve.
·       Remove the lid and put the straw in.
How to level up your mocha latte
Like most lattes, there are several different ways you can customize mocha. Here are some suggestions to elevate your mocha from great to wonderful. These works on either hot or iced mocha.
Be creative, decorate!
You can top off your mocha latte with whipped cream, more chocolate syrup, sprinkles, nutmeg, cinnamon, and chocolate shavings. These improve the presentation and elevate the flavor of your drink.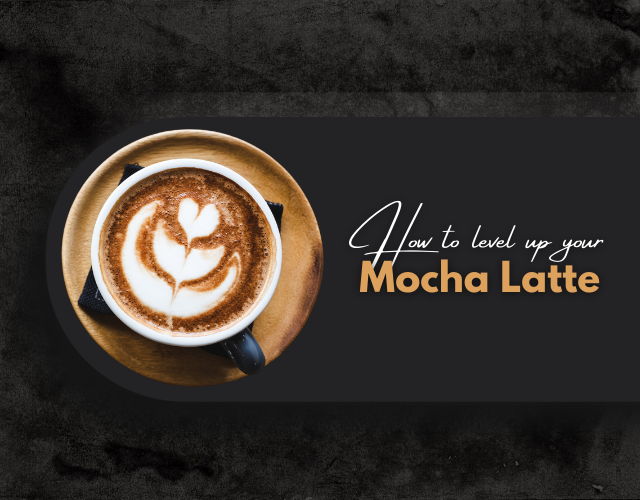 Add more chocolate.
 You can add extra white or dark chocolate to boost its flavor. If you are a sweet tooth, you might prefer white chocolate. But for those who are new to coffee, sweet does not mean sweet like candy. It is sweet compared to the taste of plain coffee.

The dark chocolate adds to the bitter taste of the coffee, but it is delicious. You can also opt to blend these all together and get a marble mocha latte. You can never go wrong with chocolate.
Go for Caramel.
If you are looking for more sweetness or saltiness, caramel is the best way to have that. You can simply add 1 or 2 tablespoons of caramel or salted caramel to your coffee. Stir until everything is fully incorporated. This cup of coffee can do wonders in sweetening up your day.
Try Peppermint.
Peppermint mocha is a popular variation of the original mocha drink. This mocha flavor can work both for iced and hot mocha. Take peppermint candy and put it in a ziplock. Get a rolling pin and use it to crush the candy. Add the powder to your mocha for an extra breath of freshness.
Put Heavy Cream.
Putting a bit of heavy cream can give you a richer and creamier taste.
And there is nothing wrong with a rich and creamy coffee, is there?
Add any type of milk.
One of the best things about mocha latte is the possibilities are endless. You can customize it in any way you want. You can add any ingredient to your liking.
Adding milk will make it creamier. You can add your choice of milk whether it's animal milk or plant-based milk. The creaminess of your mocha will depend on the kind and amount of milk and chocolate you use.
Wrapping up
There you have it. Three simple mocha recipes and several ways to modify them! You don't have to worry anymore about your coffee cravings during the lockdown. You can have your choice of coffee in the comfort of your home. Check out Lifeboost Coffee for the healthiest and tastiest coffee possible. 
Happy caffeinating!
10% OFF our entire store with coupon code "10OFF" at checkout
MEDICAL DISCLAIMER
This content is for informational and educational purposes only. It is not intended to provide medical advice or to take the place of such advice or treatment from a personal physician. All readers/viewers of this content are advised to consult their doctors or qualified health professionals regarding specific health questions. Neither Dr. Charles Livingston nor the publisher of this content takes responsibility for possible health consequences of any person or persons reading or following the information in this educational content.
All viewers of this content, especially those taking prescription or over-the-counter medications, should consult their physicians before beginning any nutrition, supplement or lifestyle program.