Simple and Easy Ways to Make Keurig Iced Coffee
Aside from the fact that they're delicious, one of the best things about coffee is that you can have them hot or cold. On hot days, iced coffee is a welcome refreshment for coffee enthusiasts. But iced coffee can be quite expensive. An average cup can cost you five dollars each.
Even so, you can be smart about this and choose to make a delicious iced coffee at home. Will it be difficult? Don't worry it is not. Continue reading and learn how to make iced coffee using a Keurig machine and other iced coffee recipes.
Why do we use Keurig?
Keurig is not a coffee maker. Let's be clear on that first. Keurig is versatile and more convenient. It makes coffee but can also make other drinks like tea or hot cocoa.
Aside from that, it's a single-serve machine. Instead of brewing an entire pot, it only makes one cup. It avoids wastage and shortens prep time. These make it a popular kitchen tool. Its flexibility and speed offer convenience, especially for busy adults. It saves you from standing in line and running late during coffee runs.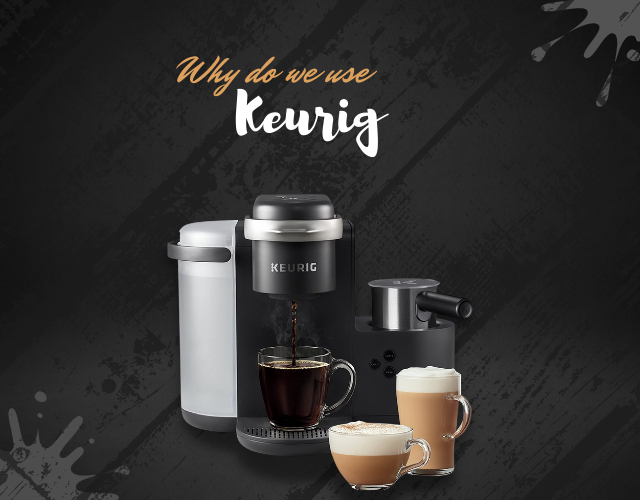 Simple and Easy Ways to Make Keurig Iced Coffee
It is a simple and delicious recipe that will surprise you. Before we get brewing, let's gather the ingredients.
Ingredients and tools:
Any K-Cup or K-cup reusable filter

Pointer: The ice and water can dilute your coffee and make it bland. So, unless you prefer that, we recommend that you go for a stronger and richer coffee. You can try Maud's "Tall Dark and Handsome" Dark Roast. 
Thermos, mug, or glass
Pointer: Use a cup that is larger than the brewing size to account for the ice. Also, if you want to use a glass cup, make sure that you do not put the ice in first. Or that you use a different cup in brewing the coffee. The temperature difference can shatter the glass.
Ice or ice coffee cubes (check recipe for making coffee ice cubes below)
two tablespoons of milk or creamer (this can be optional)
three tablespoons of sugar (more or less depending on your preference)
Steps:
       1. Turn on your Keurig - Pour enough water into the machine and place the K-cup in. Keurigs have water reservoirs that allow you to make 6-8 cups at a time. If you're using the My K-cup, but the ground in before popping it in the machine.
       2. Prep your cup - There are two ways to prep your cup.
a. Put your ice in a cup and let the coffee brew over it. This way the coffee drink will get cold faster, and you end up cleaning only one cup. And do not worry about making a mess. As long as you use a cup that is bigger than your chosen brewing size, you're okay.
b. Fill your cup with ice and prepare a different cup for brewing. 
If this is your first time, you may not be familiar with the proper ratio to fill the cup. This second option will prevent any mess from overflowing.
               3. Start brewing - Choose which cup size you want. Most Keurig models have three options. That is 6, 8, and 10 ounces. But some models can be more versatile and offer more size options.
Pointer: If you're looking for a rich flavor, choose the smallest size and then brew another. This method is called a double brew. Start the brew and get your milk or creamer ready.
       4. Serve and enjoy - Slowly pour in your milk or creamer.
Pointer: Use cold milk for faster cooling. And just like that, you have a simple, cheap, and delicious fresh iced coffee in the comforts of your home.
If you want more cool tips and alternative iced coffee recipes, continue reading.
Which Keurig machine works best for making iced coffee?
Keurig released a model that features an ice coffee brewing option. It is the K-lite single serve. But while this model has an intended button for iced coffee, it cannot be said to be the best for the job. Iced coffee is so easy to make that you can do it using any coffee machine.
Keurig produced a promotional video for their brew over ice tea pods. And guess what? They did not use the K-lite single-serve model. So, it follows that we can use any Keurig product in making iced coffee as well. But if you are interested in the K-lite, here is a brief overview of its features.
Keurig K-Lite Single Serve
The iced coffee button is unique to K-lite. It's the only Keurig model that has this option. Keurig claims that the K-lite can make a strong coffee brew that will not be watered down by ice or milk.
It can do this because of two things:
               a. It has a lower temperature which makes a colder brew.
               b. It makes less brew to account for the dilution of the ice.
The K-lite has got you covered in both appearance and customization. It's sleek and compact and offers five choices of cup sizes instead of the usual 3. The versatile size options are especially.
Additional Tips for Making the Best Iced Coffee
The thing about iced coffee is that the ice melts. When this happens, it thins out the flavor. Coffee lovers know enough to drink their iced coffee before this happens.
Coffee Cubes
But you don't have to be in a rush to finish your drink. Why can't you enjoy it at a pace that pleases you? What if we tell you there's a way you can enjoy it without worrying about it being too watery?
Coffee cubes! That's right. Ingenious, isn't it? We would like to shake the hand of the person who first thought of it. Alas, it is not patented, and we can never know. It's a simple solution, but it might require extra preparation.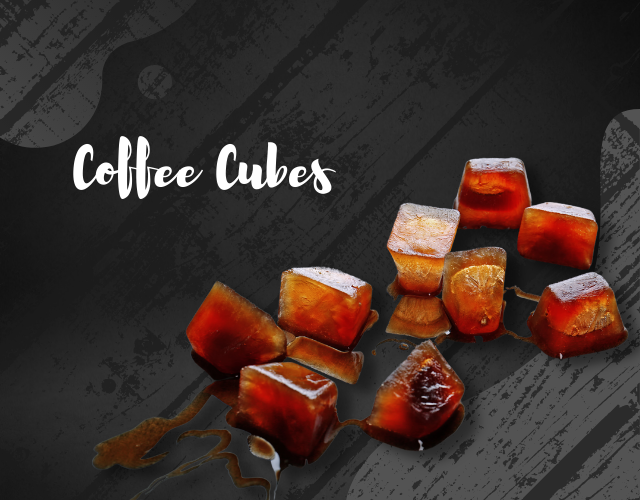 Ingredients and tools:
Coffee ground or coffee pods
Ice tray (silicon or metal)
Water (depends on the size of your ice tray)
Spoon for stirring
Milk, sugar, cream, caramel, peppermint, or chocolate (for optional flavor)
Procedure:
1. Brew - Brew a large batch of coffee. Do this night before or at least 5 hours before you make iced coffee. Let it cool.
Pointer: You can customize your coffee cubes using milk, cream, peppermint, caramel, and chocolate. Just add these after brewing and stir thoroughly. 
2. Freeze - Pour the brew in an ice tray (it doesn't matter which kind). Tap it gently to remove the bubbles.
Pointer: Place a wrap around the ice tray or use a zip lock bag. It will prevent any contamination of flavor. 
Pop it in the freezer and wait. It will take about five hours to freeze it completely. If you cant to be sure, you can use a knife or anything sharp to test it.
Double Brew - If you prefer strong coffee, the answer is simple. 
Brew two cups of coffee using two pods. It will double the strength of your coffee.
Pointer: If you're not using coffee cubes, use a different mug to prevent the ice from melting quickly.
The problem with this is, double brewing makes excess garbage. We Believe people should be more eco-conscious. So, if you're doing this, use My Cup or others that have recyclable cups. Another eco tip is to recycle the used coffee ground as compost. If you're using pods, break the filter bag mix the coffee grounds with the soil.
Other Iced Coffee Recipes
There is a wide range of iced coffee variations. Here are two recipes, each with three simple steps, to level up your homemade iced coffee. It will taste as good as what you order in coffee shops.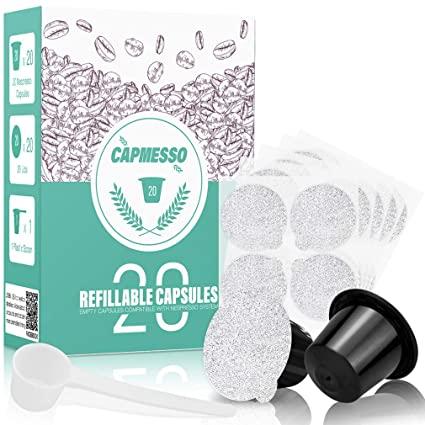 Vietnamese-style Iced Coffee
This coffee drink traditionally uses Vietnamese-grown coffee beans and a special Vietnamese drip filter. Although the result is not an authentic Vietnamese iced coffee, it's the next best thing. So, let's be resourceful and use what we have in the kitchen.
Ingredients and tools:
 Tall glass or cup
Half a cup of ice cubes
Water (depend on the size of your cup)
Sweetened condensed milk (according to taste)
Coffee grounds
Keurig or other brands of coffee machine
Procedure: Once you have all you need, follow these simple steps.
1. Brew - Set up your Keurig or any other coffee machine. Pour in your water and put the coffee grounds. Press the strong or shot button if you have it.
2. Prep the cup - While waiting for the coffee, pour the condensed milk into the glass. Brew over it and stir thoroughly to incorporate the milk.
3. Serve - Put some ice and a straw and enjoy.
Cold Brew
It is the easiest and the most time-saving recipe to prepare. The best part is it doesn't need a machine at all.
Ingredients and tools:
Ice
Room temperature filtered water
A jar that can be secured with a lid
Coarsely ground coffee of your choice
Procedure:
1. Place the coarse ground coffee in the jar and pour water
Pointer: Use one cup of ground coffee for every 3 ½ cups of water.
2. Secure the lid and place the jar in the fridge. Keep it there for 10-20 hours.
This is called the steeping process. Over time, the coffee soluble will mix with the coffee. The longer the steeping time, the stronger and richer the coffee will become.
3. Once the coffee flavor is extracted from the grounds, filter it.
You can use cheesecloth if filter paper is not available. You can also pour it slowly so the coffee grounds will stay on the bottom.
Add milk, water, and ice according to your taste.
Pointer: Cold brew can last for about 2 weeks in the fridge. But it will start to lose flavor after a week, so might want to finish it by then.
Parting words
Keurig is a great buddy that can help you have your coffee fixed at home. It can make hot beverages and iced drinks. It offers a range of options for customization.
Just a few reminders before we go our separate ways. For safety purposes, do not brew over a glass cup. And don't forget our other useful pointers for the best-iced coffee experience. Were you surprised at how easy it is to make your iced coffee? Us too when we found out. We're just glad we could help.
By now, you're probably excited to try these recipes and tips, so we'll let you go and check out Lifeboost Coffee for the healthiest and tastiest coffee possible. 
Happy caffeinating!
10% OFF our entire store with coupon code "10OFF" at checkout
MEDICAL DISCLAIMER
This content is for informational and educational purposes only. It is not intended to provide medical advice or to take the place of such advice or treatment from a personal physician. All readers/viewers of this content are advised to consult their doctors or qualified health professionals regarding specific health questions. Neither Dr. Charles Livingston nor the publisher of this content takes responsibility for possible health consequences of any person or persons reading or following the information in this educational content.
All viewers of this content, especially those taking prescription or over-the-counter medications, should consult their physicians before beginning any nutrition, supplement or lifestyle program.