Searching for The Best Espresso Beans
When it comes to starting your day with a great-tasting espresso experience, the secret lies in choosing the best espresso beans that money can buy.
Why Espresso? 
What is it about that little cup of steaming, satisfying taste? Take a moment before drinking to enjoy the aroma, to watch the steam rising, and to peer through that creamy top layer to the intense dark liquid underneath. It is almost a sensual experience, even before the kick you get when you taste it. Is it any wonder that the Italians invented it? Italians are lovers of all good things so they look for the best espresso beans.
Espresso comes with a kick of caffeine that is more pronounced than any other coffee you try. Coffee connoisseurs love to settle down with a steaming espresso.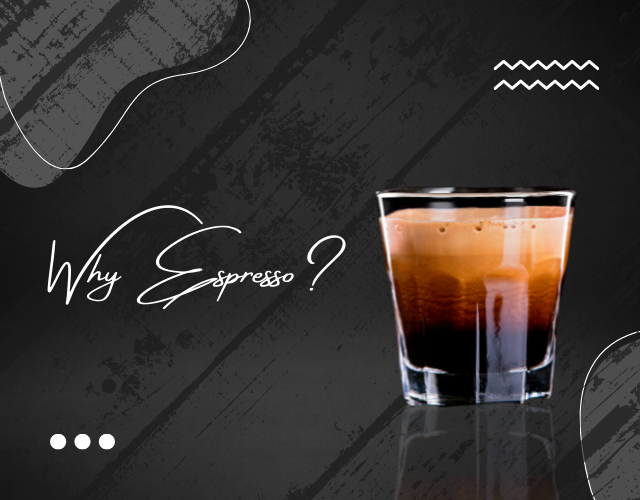 Take note that to them, coffee drinking is an art. Espresso drinking is an art that must be savored with little to no distractions. Give your whole mind and body to this exquisite taste sensation. Cease the conversation; put aside that book or magazine. 

So now we ask the questions, "Why Espresso?" "How has it become so popular?" It has caffeine content that will chase away all those hangover blues. It is a coffee that can be appreciated anytime, anywhere as long as you have the best espresso beans - although it might not be suited to be a bedtime drink. Its secret is a complex one. How are the beans grown? How are the beans prepared? Where are the beans sourced? And lastly what type of bean is used. It is estimated that a well-made espresso is about six times as potent as a cup of normal coffee.

So let's start at the most elementary part – the bean. We will check out the best espresso beans to give us a tasty drink a little bit further down the line. The best espresso beans need to be dark roasted. They also need to be ground finely. The beans typically have a long roasting time to result in the dark roast. Long roasting time will give increased flavor. In a dark roast, the oils in the coffee bean become stronger. The oils help to make your espresso more enjoyable.
To make your fresh cup:
Fill the filter cup with the best espresso beans ground to fine perfection.
Push the ground beans down with firm pressure. The aim is to compact the ground coffee so that the water has to work hard to travel through.
While it travels through, it can extract all the deliciousness from the ground beans. This compacting of the beans is tamping, and the resultant mass of tightly packed grounds is known as a puck.

When the liquid espresso has passed through, the puck should almost be a solid mass.
An Espresso machine delivers a stream of extreme heat and steam under pressure. Espresso machines typically exert between 9 and 15 bars of pressure. The more pressure that is exerted, the more favorable your espresso will become. The concentrated coffee liquid is thicker than a normal cup of coffee as some of the fine grounds pass through the filter into the cup. The actual espresso process takes between 20 and 30 seconds.
To get a great tasting espresso:
Finely grind dark roast coffee beans.
Tamp it down to form a puck.
Hot water (about 200⁰ F) gets passed through the filter under pressure.
The above three steps are important as they differentiate between a cup of normal filtered coffee and a small dark shot of espresso. With normal coffee, the beans could be a light, medium, or dark roast. Filtered coffee does not require the beans to be finely ground. There is heat in filtered coffee but there is no pressure. If you want a less intense treatment, the beans could be a bit more coarsely ground. It will not be as thick or as intense, but it will still result in an enjoyable cup for those who want to educate their palate.
Many blends can be used to create a stimulating espresso experience but some are considered better than others. The best espresso beans make up the following products. Many of these are blends. The packager may take two or more types of beans to make up the blend. 
Dark Roast
Lifeboost Organic Espresso Coffee Beans
Sightglass Organic Crown Point
Blueprint Coffee Penrose Blend
Cuvee Coffee Karmadillo Dark Blend
Red Bay Coffee Brazilian Cake Lady
Death Wish Coffee
Kicking Horse 454 Horse Power
Koffee Kult Thunder Bolt
In-between Beans
CoffeeBean Direct Italian Roast Espresso
Intelligentsia Black Cat Analog Espresso
Medium Roast Beans
Lavazza Super Crema
Blue Horse 100% Kona Coffee
Klatch Coffee World's Best Espresso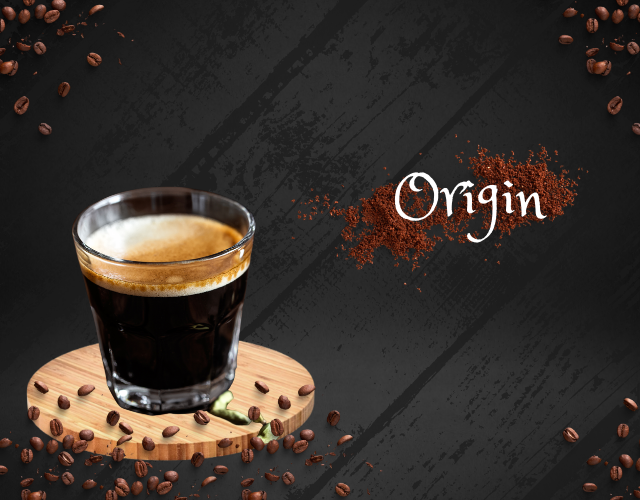 Origin
Origin is another valuable facet when making your strong espresso experience. The best coffee beans come from countries cradling the equator; this area is called the bean belt. More than fifty countries are responsible for the beans grown in this belt. Certain countries are more prolific coffee growers. 
The flavor is dependent on locality. The amount, type, and intensity of rain affect the production. Beans seem to thrive where they get a mixture of sun and shade. The ratio of sun to shade affects the flavor. The chemical make-up of the soil and the altitude are also contributing factors to the flavor.
The following countries are well known for their coffee bean production.
Columbia:

Most of the beans are grown on family farms. The family takes pride in farming the best espresso beans possible. These beans have a nutty flavor with caramel overtones.

Brazil:

The flavors of Brazilian coffees are dependent on the altitude. The signature flavor of Brazilian coffees is a spicy, nutty flavor. The beans produce a heavy-bodied espresso.

Ethiopia:

There is a lot of flavor variety in these coffees. The flavors embrace the full spectrum from heavy to light brews. The heavy brews have an almost wine-like essence. Floral notes are detected in the lighter brews.

Kenya:

Kenya receives more sunlight than the other regions. Sunlight produces the best espresso beans for a crisp savory taste with a hint of sweetness.

Indonesia:

Now we come to the home of the beans called Java. Java has become an accepted term for a cup of coffee. This area also produces Sumatra beans. Both of these are popular, full-bodied coffees.

Hawaii:

Hawaiian beans are called Kona. Hawaii experiences heavy rainfalls followed by stark sunlight. These weather conditions provide the best espresso beans for a unique taste. The slightly sweet, floral taste of the brewed coffee comes with a biting aftertaste.
Espresso blends could feature any of the above coffee types. Most will include Brazilian, Columbian, or Indonesian beans to formulate the best espresso beans.
The Best Espresso Beans
Arabica and Robusta, while maybe not the very best espresso beans are the most popular in blends. We have also heard mention of Kona, Java, and Sumatra beans. 
Arabica beans are grown on the mountain slopes of South America. These beans have a soft, sweet taste. Starbucks and many other coffee houses have opted to include Arabica beans in their line-up. Robusta beans are popular because they have a slightly less intense caffeine component, and they also lack that bitter aftertaste.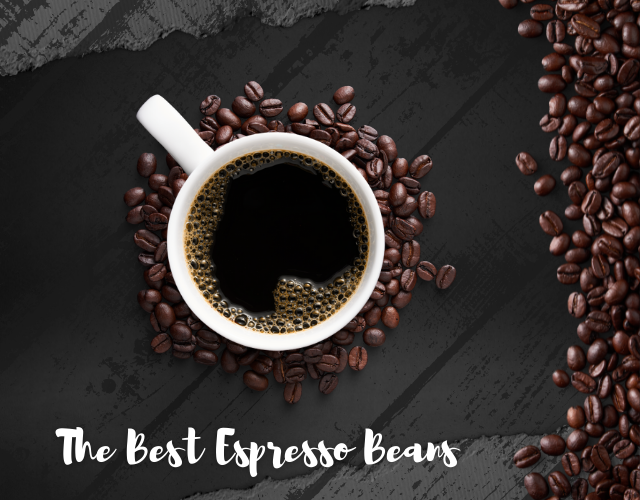 Robusta beans are easy to grow. The primary location is in the East. Robusta beans give a strong taste with a lower degree of acidity. The best espresso beans for you, are the ones that you enjoy. Everyone has a different taste palate. Do yourself a favor, experiment until you find the blend that will become your signature blend.
Whole versus pre-ground
You are standing at the coffee shelf in the shop. You have decided on your personal best espresso beans – the ones that give you your unique espresso experience. 
The number of products is confusing until you find the blend that suits you, maybe on that top shelf. Now comes more decisions. They have a packet of whole beans and a packet of ground beans. So which do you buy? There doesn't seem to be any real price difference. Unless you intend to drink the coffee very often, ground beans are not for you. It's all a question of freshness and flavor. Once beans have been ground and exposed to the air, they lose flavor the longer you keep them. So my advice is a resounding vote in favor of whole beans.
With whole beans, you can grind the amount that you want for each specific brew. "I haven't got a grinder." I hear you say. No problem. Grinders are not expensive, and you can choose how fine you want your beans ground. Your espresso machine will most likely have a built-in grinder. If your espresso machine can grind coffee beans, it just adds one preliminary step to the espresso process. How smooth is that?
It is possible to grind more beans than you need. If you grind more than you need, you will have them ready when you need them. Be careful to store them in a tightly sealed jar as the flavor degenerates in the air.
Types of Roast Coffee Beans
You've got the espresso machine and the grinder. You have chosen your bean, and now see that it is available in Dark, Medium, or light roast. By now, you are probably thinking, "Why all these decisions?" These decisions are important for your ultimate coffee experience.
So a bit of explanation is required. When the beans are on the bush, they are green in color. When they reach a dark reddish color, they are ready to pick. They are dried and then roasted.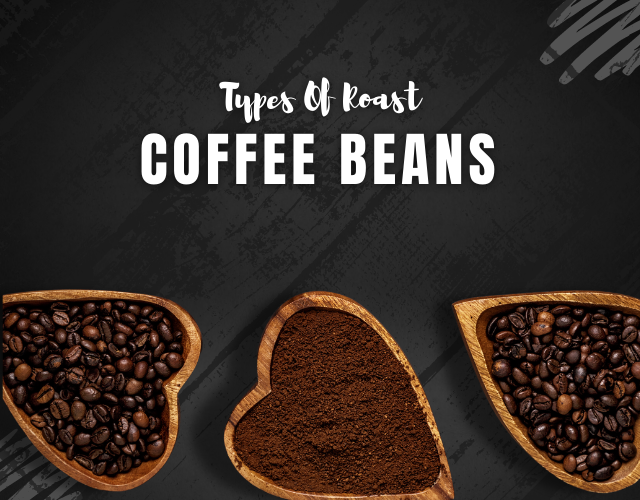 Dark roast:

These beans have a reduced acidity. They are oily. This oiliness contributes to the top layer of crema in your espresso. They are full-bodied. Because of their oily nature, they may clog your espresso machine.

Once you get tired of unclogging the espresso machine, you may be ready to look for an alternative.
Medium roast:

This is a good alternative to a dark roast. Neither the taste nor acidity is affected too much. Medium roast is an acceptable alternative to dark roast beans.

Its oil content is a lot less, so it is unlikely to disrupt your espresso process.
Light roast:

Typifies very dry roasted beans. The dryness brings out their earthy taste. They are suitable for French Press or Drip Machine but are unfortunately not suitable for the desired punch of an espresso coffee. A beginner may find them suitable, but once their palate becomes educated they will need to change to a more robust roast.

A connoisseur will be disillusioned by the flavor of light roast beans. The flavor will be flat and disappointing.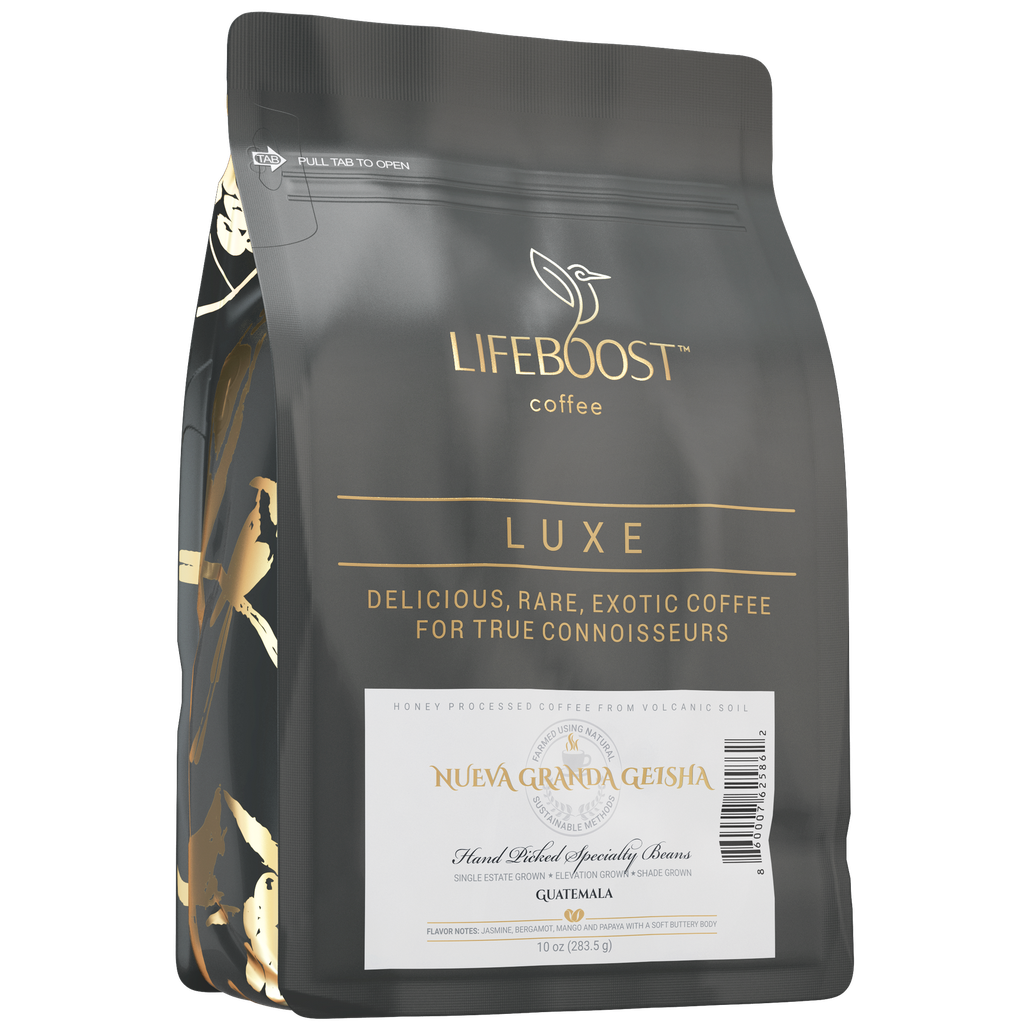 Lifeboost Organic Espresso Coffee Beans
These beans have passed the organic test of approval by the United States Department of Agriculture. Select farmers slowly grow the beans on the shady mountain slopes of Nicaragua. The beans are handpicked to ensure that only the best are reserved for use. After picking, the beans are rinsed in spring water. They are allowed to ferment for just over a day.
After they have fermented, the workers can easily skin the beans. To facilitate the drying process, the beans must be spread out. Each bean absorbs natural Central American sunlight during the drying process. Once they are dried, they are roasted to a dark roast perfect for your cup of Java.
Because these beans have the organic stamp of approval, strict organic handling is applied during all stages – growth, harvesting, drying, and roasting to ensure you get the best product available. No chemicals or pesticides are used. This will eventually impact the unique taste of the 100% Arabica beans.
These beans have an intense caffeine kick which should satisfy any coffee junky. They have a unique flavor with overtones of chocolate and caramel and subtle fruity tangs. This satisfying and unique blend has justly earned its popularity.
Sightglass Organic Crown Point
Sightglass coffee beans are another organic product. Sightglass has been endorsed by the United States Department of Agriculture. Sightglass is a blend that is composed of three organic coffee beans. Two of the bean crops come from the prime growing areas of Southern America. The third crop is grown in Ethiopia. The farmers rotate their crops, ensuring that the beans benefit from this soil-rejuvenating method.
After the beans have been harvested and dried, they are roasted to a medium roast. A medium roast is popular among people who want a slightly less bitter brew. The taste is enhanced when you add a bit of milk to the cup. 
Cradle your cup in your hands; sniff that full-bodied aroma, just knowing that the taste is going to tickle your palate. Sip it slowly and allow its flavors to stimulate your taste buds. You will be aware of a fruity, unusual chocolatey taste with a subtle hint of butterscotch.
Blueprint Coffee Penrose Blend
Blueprint Coffee Penrose Blend is a blend of beans. The beans are sourced from different areas and at various times of the year. The primary source for these beans is in South America. The blend changes slightly according to which harvest. The blenders maintain that they want to deliver the best tasting espresso by using some of the best espresso beans available. 
You can enhance your espresso flavor with a bit of milk or creamer. It has a sweet, nutty, fruity taste that is enjoyable throughout the year. The imaginative coffee drinker will be transported by the flavors that vary depending on where it was grown and when it was harvested. Penrose guarantees a sweet, strong flavor to their blend.
Cuvee Coffee Karmadillo Dark Blend
And here comes another dark roast bean. This bean is one of the best espresso beans. Karmadillo beans are also a blended variety. The dark blend equates to a tasty, strong cup of Joe best suited to the coffee fiends, those who cannot get moving without their morning espresso ten times over. The company refers to the blend as breathing life into corpses. These best espresso beans have also been classified as a brew that breathes life into you. It seems as if these beans would be perfect after that night on the town.
This blend should be good for you if you are a person who cannot function before the morning cup of Java. The company swears you will be up and moving faster than ever after just one strong breakfast espresso.
This blend of beans is grown in four places. They are found in different areas of South America and Central America. Some beans make the trip from Ethiopia and Indonesia. This blend is distinguished by piquant milky, caramelized flavors.
Coffee connoisseurs enjoy the tantalizing flavors that are present in this coffee. Some have even tried it out with a splash of milk. They find the coffee tasty even though it is strong and very rich in its chocolaty sweetness.
Red Bay Coffee Brazilian Cake Lady
Red Bay Coffee Brazilian Cake Lady is a world-famous Brazilian coffee. It is grown on a farm that has been in the family for three generations. The family has perfected innovative methods to process these beans. It is a full-bodied medium roast coffee. It is popular with most people as it gives a pure, smooth brew. 
Some of the best beans for espresso coffee are grown in Brazil. Brazilian coffee has a distinctive flavor range. There is a subtle edge of chocolate and peanut butter. The serious espresso lover will isolate many interesting fruity flavors with a touch of nougat when using these best espresso beans. The aromas giving off during the brewing process will signal the start of a unique coffee experience to the waiting crowd.
Death Wish Coffee
Death wish Coffee is another organic, dark roast coffee bean. It has the United States Department of Agriculture stamp of approval. It is a blend of Arabica and Robusta beans. The beans are grown in Peru. The farms fall under the auspices of a fair trade agreement. It is included in most lists of the best espresso beans available.
As its name suggests, this espresso roast is not for the faint-hearted. Coffee connoisseurs will appreciate the depth of taste. It is also likely to be popular with the all-night party people as it will deliver a punch guaranteed to set you up for the day at the office. These beans release more concentrated caffeine per cup than most other coffee beans. Many Coffee aficionados regard these beans as the best espresso beans available. It has an intense chocolatey flavor with tinges of cherry.
Surprisingly the coffee, although intense in taste, is not as bitter as you would expect. It is a coffee for the experienced coffee drinker. Casual drinkers are often offended by the slightly burnt taste that characterizes these beans. For this delectable coffee experience, one can expect to pay a little more. 
Kicking Horse 454 Horse Power
If Death's wish is too strong for you, try Kicking Horse 454. It comes with a solid kick of horsepower but is subtly calmer in taste than Death Wish. It is also a dark roast blend of beans that have been certified organic by the United States Department of Agriculture. The source beans have been grown under the fair trade agreement in Indonesia, regions in the coffee belt of South America.
It is an interesting fact that this particular brand is Kosher. Being Kosher is a definite advantage and secures its place as one of the best espresso beans available. The resulting espresso is a tasty dark brew with enough caffeine to support any coffee enthusiast's palate. Buying a packet of these beans is cheaper than you would expect for such great-tasting coffee beans.
The taste sensation offered by Kicking Horse is a unique earthy flavor. Its smooth taste offers low acidity and understated flavors of chocolate and nutmeg. Once you have tried it, you will appreciate the delicate flavors, and it will almost certainly make it onto the connoisseur's list.
Koffee Kult Thunder Bolt
We have looked at some coffees that deliver big caffeine kicks. Some of the coffees have subtle flavors that will speak to you. This coffee is a delicate fine line when choosing the best espresso beans for your consumption. When you are searching for your favorite coffee, Koffie Kult's beans might be what you need. It ranks high on caffeine potency and flavor. The beans are grown in the coffee belt of Southern America. Koffee Kult has chosen to do a special roast with the beans. This roast falls in between a medium and dark roast.
Some espresso machines get clogged with the oiler coffee bean. So if this is what happens to you, you will be pleased to know that Koffie Kult beans are not oily, so your oily build-up could be a thing of the past. As far as flavor goes, Koffie Kult has produced a strong, heavy-bodied, caffeinated coffee with a hint of sweetness. Before you enjoy your cuppa Joe, inhale the strong coffee aroma of this gourmet coffee.
CoffeeBean Direct Italian Roast Espresso
While this does not make the initial list of the best espresso beans, it has a strong flavor and aroma. It can be enjoyed as a Latte, Espresso, and Mocha. If you are into percolated or drip method coffees, you will be pleased with this dark Italian roast. 
The blend uses beans from South America mixed with beans from India. They are slowly roasted just before preparing to ship out. This packs in both flavor and aroma. The result is a strong cup of coffee, no matter how you prepare it. As you savor the first taste, you will be able to pick up the smoky overtones of Cocoa and molasses.
You can buy these coffee beans in bulk which serves to bring the price down. CoffeeBean Direct Italian Roast is a cheaper bean but by no means an inferior coffee bean. Only the true coffee lover can distinguish between these beans and any of the other best espresso beans. 
Intelligentsia Black Cat Analog Espresso
These coffee beans have a satisfying flavor that also comes with lower caffeine intensity than many previously mentioned. The flavor of this blend has a slight seasonal variation, although it will always have a consistent back flavor. As you take a mouthful of your brewed coffee, savor its syrupy, choc lately goodness.
Enjoy the feeling that enfolds your body. Do not be surprised if you get a feeling of sitting around a log fire in the company of friends. The manufacturing company has a mission to transform the way people view espresso coffee.
Lavazza Super Crema
Lavazza Super Crema beans are some of the best espresso beans in the medium roast range. Lavazza is a well-known coffee company. They exist worldwide. They are grown in some of the more popular regions for coffee beans, South America, India, and Indonesia. The beans are blended and medium roasted in Italy.
Once your espresso is ready, you will experience fascinating underlying flavors. You may discern almond, honey, and a fruity flavor. This coffee has a lower caffeine count without affecting the taste. The Lavazza blend consists of a blend of Arabica and Robusta beans. The Arabica beans dominate the taste as there are four times as many Arabica beans. They have an excellent shelf life as they are nitrogen-packed. 
Blue Horse 100% Kona Coffee
Blue Horse 100% Kona Coffee beans are grown in Hawaii on a family farm. These beans have not been classified as organic beans, but they are farmed under certain organic specifications. Kona beans are special. They originate on the mountain slopes of Hawaii.
At the time of harvest, the beans are handpicked when they have a dark rosy color. The attention that the beans get every step, from being free on the mountain, to getting packaged for you, means that added care and attention have been given to them. This means that although it is one of the best espresso beans, it is also one of the more expensive beans. The resultant brew is well worth the expense.
The beans are available as either a medium or a dark roast. The medium roast guarantees a flavorful caffeine boost. As you sip your cuppa coffee, your taste buds will pick up a hint of nutty, spicy sweetness with a hint of vanilla.
Klatch Coffee World's Best Espresso
And now for an award-winning espresso. Klatch Coffee beans were awarded the WBE title in 2007. Klatch coffee has a blend of three types of the best espresso beans sourced from Brazil, Sumatra, and Ethiopia. This is a powerful chocolaty blend featuring signature citrus notes at the first taste, and as your mouth takes on these notes a further syrupy spicy-sweet flavor develops as the syrupy sweet taste of berries becomes evident. It is a coffee to savor and could well become one of your favorites. 
Another of the Klatch Coffee stable is the Belle Espresso. This heady blend has unique caramelized tones.
Wrapping Up
We bet you do not think of all of this as you wait in line to receive your espresso from Starbucks. Before they started, Starbucks had to contend with all the decisions you will have to make. Dark or medium roasts are best for espresso.
Trust the coffee growers and their companies to choose the best blend for you. The growth sites and countries have an impact on taste.
Beans stay fresher for longer if they are whole. Grind just what you need for the current brew. Try to find the best espresso beans which fit into your lifestyle. Experiment until you find your favorite. 
Once you have the brewed cup, sit and savor it. Sniff the aroma; let the first mouthful roll around your mouth before swallowing. Make that first and last espresso a positive experience in your busy life. Lastly, Check out Lifeboost Coffee for the healthiest and tastiest coffee possible. 
10% OFF our entire store with coupon code "10OFF" at checkout
MEDICAL DISCLAIMER
This content is for informational and educational purposes only. It is not intended to provide medical advice or to take the place of such advice or treatment from a personal physician. All readers/viewers of this content are advised to consult their doctors or qualified health professionals regarding specific health questions. Neither Dr. Charles Livingston nor the publisher of this content takes responsibility for possible health consequences of any person or persons reading or following the information in this educational content.
All viewers of this content, especially those taking prescription or over-the-counter medications, should consult their physicians before beginning any nutrition, supplement or lifestyle program.