Kahlua and Cream - A Guide To What It Is and, How To Make It
This Kahlua and Cream post will tell you what this drink combination is, how it originated, and give you a recipe on how to make this delicious coffee cocktail. As you may know, Kahlua is made from three ingredients: coffee-infused dark rum, vodka, and sugar syrup.
Kahlua and cream is a delicious after-dinner drink that many people enjoy. Kahlua, as well as other types of liqueurs, are alcohol-based beverages that have been around for centuries. Initially, this coffee liqueur was first discovered in Mexico in 1936.
It was then exported to the United States where it became popular among American customers. Today, there are many variations of this drink that can be enjoyed hot or cold depending on your preference.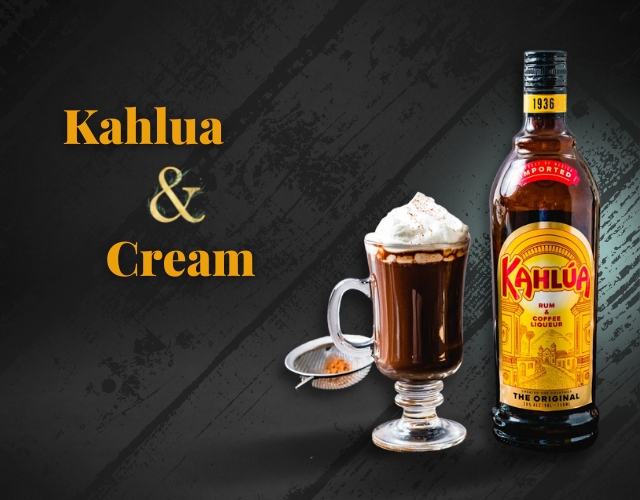 What are Kahlua and Cream?
Kahlua and cream is a classic, timeless drink. It is simple to make and consists of only Kahlua and cream. Like mentioned earlier, this combination is best served after dinner and it's perfect for any occasion. It is also great to serve at parties because it can easily be pre-made, so you don't have to spend your time mixing drinks when you could be mingling with guests!
Kahlua was first created in Mexico as an inexpensive way to make coffee taste better. This coffee liqueur has the quality of making any cocktail or mixed drink taste amazing!
Kahlua and cream is a drink best served cold with ice cubes, and it's a delicious drink that everyone will enjoy! Additionally, you can also serve this combination as a shot or mixed into your favorite cocktail. Kahlua and cream feature an amazing flavor that not only tastes good but also smells great.
Lastly, Kahlua and cream should definitely be on the list of drinks to try at least once in life!
What is Kahlua and Cream Made Of?
Kahlua and cream is a popular alcoholic drink made of Kahlua coffee liqueur, milk or cream, ice cubes, and usually vanilla extract. Kahlua has many different flavors such as chocolate, aniseed, etc., but Kahlua with cream is generally considered to be the simplest type that does not require any extra ingredients except for what you might already have in your kitchen.
Kahlua and cream is a traditional Mexican cocktail, but it has become popular worldwide since Kahlua was introduced to the market in Mexico back in 1936.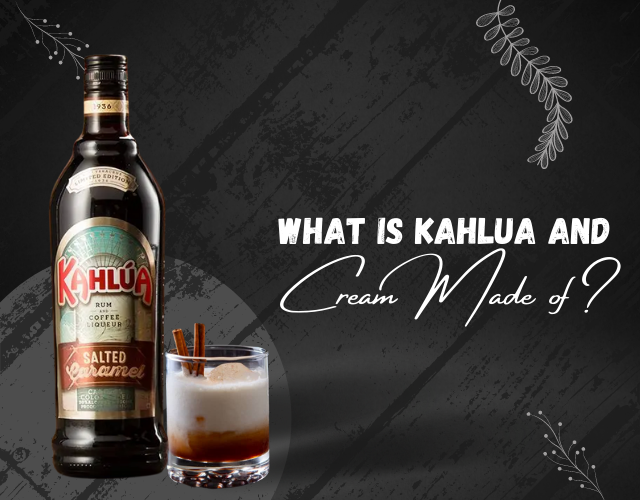 How to Make Kahlua and Cream?
Kahlua and cream is a delicious coffee drink that you will love. Kahlua and cream is easy to make at home using:
Kahlua
Milk or cream
Sugar
Ice cubes
Vanilla extract/vanilla powder (optional)
Whipped topping (optional), and
Chocolate syrup for the top of your Kahlua and Cream beverage if desired.
Remember, the main ingredients here are Kahlua and milk or cream, so the Kahlua is very important.
If you want to really bring out that strong Kahlua flavor in your Kahlua and cream drink, then use a good-quality Kahlua. You will also need some ice cubes, vanilla extract (or vanilla powder), and some sugar. Kahlua is a coffee-flavored liqueur, so you will want to use milk or cream in Kahlua and Cream drink instead of water for the best flavor.
Milk can be substituted with heavy whipping cream if desired. The more ice cubes that are used, the colder your Kahlua and cream drink will be.
Directions:
First, pour Kahlua and cream into a glass. Then mix it well with a spoon or stirrer.
Next, add sugar to taste for desired sweetness level; stir again until the sugar is dissolved in Kahlua and cream mixture.
Finally, fill up your Kahlua and Cream drink with some ice cubes then top it off with whipped topping and a dash of chocolate syrup if desired.
Tips: You can adjust Kahlua and cream recipe by adding more Kahlua or cream depending on how strong you want your Kahlua drink to be, as well as the amount of sugar that is added for sweetness level. For best results, use good Kahlua rather than cheap brands of Kahlua coffee liqueur.
Now that you have learned how to make Kahlua and Cream, give the recipe a try! Enjoy your Kahlua cup of Joe!
Is Kahlua and Bailey's the Same?
Kahlua has many different varieties, but Kahlua and Bailey's are not the same things even though they have some similarities. Kahlua is a coffee liqueur made from Arabica Coffee beans and other ingredients like sugar, rum, and vodka, among other ingredients. Bailey's on the other hand, does not contain Kahlua or coffee in its ingredients.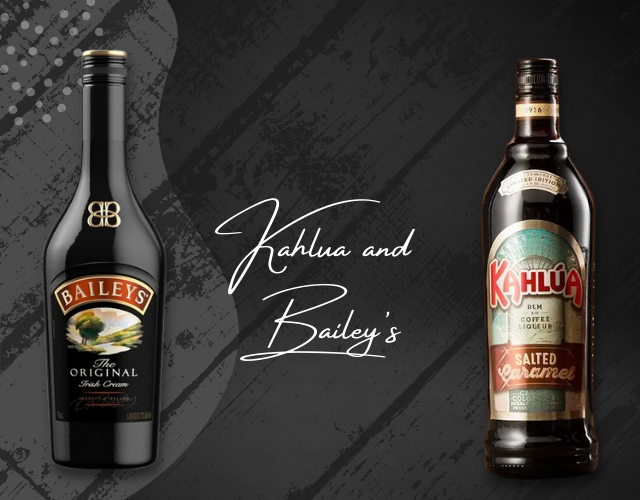 Kahlua has a sweeter taste than Bailey's and is also higher in alcohol content (16%). Kahlua has an ABV of 16% while Bailey's only contains 12%. Kahlua can be consumed alone, but it is most often used as a mixer for cocktails like the White Russian or Kahlua and cream.
In conclusion, Kahlua and Baileys are two different products that are similar in some ways.
Can I Have Kahlua and Cream with Coffee Cocktail?
Kahlua and cream is a popular Kahlua cocktail also known as a White Russian. Kahlua and cream is one of the best Kahula cocktails, so let's learn how to make this delicious drink! In order to have Kahlua coffee at home, you will need Kahlua and cream, vodka, ice cubes. First, put some ice cubes in a glass. Then pour Kahlua and cream over the ice cubes, add vodka to the Kahlua coffee mixture, stir with a spoon or straws.
Kahlua is made from coffee beans that are roasted slowly by traditional European brewing methods for an intense flavor unlike any other coffee around. Kahula Recipes have become very popular cocktails all over the world. Kahlua and cream is a perfect Kahula cocktail, Kahlua coffee has become so popular around the world that it now comes in different flavors such as hazelnut, vanilla, or coffee.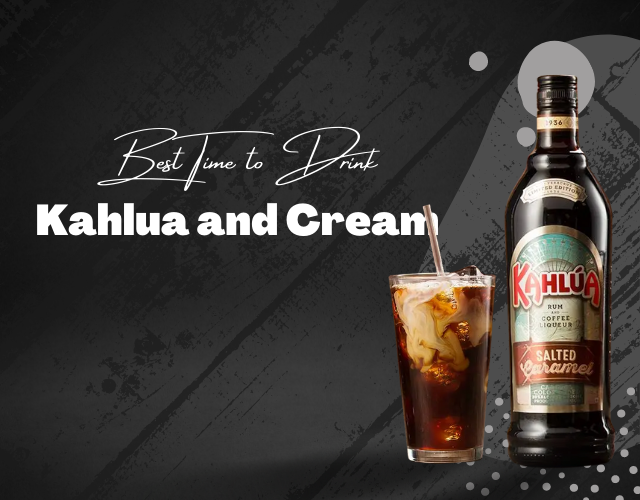 When is the Best Time to Drink Kahlua and Cream?
The Kahlua and cream cocktail has become very popular over time with its unique combination of creamy flavors mixed well together to create a delicious after-dinner or special occasion drink. Kahlua is a coffee-flavored liqueur that contains cream to give it its creamy consistency and flavor profile, but what time of day does one enjoy Kahlua the best?
As mentioned above, Kahlua and cream is best served:
After dinner 
Special occasions 
When looking for the perfect time to have Kahlua with cream there are two factors that come into play, the Kahlua and cream flavor profile itself which is best enjoyed in the evening or at night after dinner because of its refreshing taste.
Kahlua has a very unique coffee-like flavor that many who drink it for the first time describe as tasting like drinking an alcoholic café mocha with an extra kick. The Kahlua and cream cocktail goes down smooth, making it the perfect drink to have after dinner at night.
Kahlua and cream is also great for special occasions because Kahlua has become so popular over time that many different types of flavors can now be mixed with Kahlua like chocolate or vanilla which gives Kahlua an even more unique flavor profile than before.
More Cocktail Ideas that Go Well With Kahlua
Kahlua makes for some awesome cocktails because of its rich coffee flavor that compliments any other ingredient it's mixed with. Kahua has become very popular in recent years and Kahlua and cream is a classic Kahlua drink.
Besides this cocktail, Kahlua can also go great with dark rum, vodka, or even bourbon. Kahlua works well in many different drinks because it can be made sweeter to balance out other flavors present when Kahlua is mixed with something stronger like whiskey.
All that said, here are more cocktails that you can actually enjoy with this famous coffee liqueur:
Kahlua and cream 
Kahlua mudslide 
Kahula hurricane 
Kahula Irish coffee (hot or cold) 
Kahula martini 
Kahlua and cream on ice 
Kahula coffee (hot or cold) 
These are just a few of the many cocktail offerings that can blend greatly with the famous coffee liqueur. And if you are a coffee lover interested in exploring coffee cocktail ideas with Kahlua, Lifeboost coffee has a great selection of coffee cocktails that go great with this coffee liqueur. They are mold-free, yummy, and easy to make for a refreshing experience of your favorite coffee cocktail.
Conclusion
The Kahlua and cream is a delicious beverage that can be served on its own or as an after-dinner drink. It's one of those drinks that I would recommend everyone to try at least once if you have not already. Kahlua and cream can be served either hot or cold, so you don't even need to add ice if you wanted a warm drink instead of a cold one (although it's much better when iced).
Kahula and cream would make a perfect summer drink to enjoy while sitting on the porch or at your favorite restaurant after work with friends and family this season.
MEDICAL DISCLAIMER
This content is for informational and educational purposes only. It is not intended to provide medical advice or to take the place of such advice or treatment from a personal physician. All readers/viewers of this content are advised to consult their doctors or qualified health professionals regarding specific health questions. Neither Dr. Charles Livingston nor the publisher of this content takes responsibility for possible health consequences of any person or persons reading or following the information in this educational content.
All viewers of this content, especially those taking prescription or over-the-counter medications, should consult their physicians before beginning any nutrition, supplement or lifestyle program.