Kahlua and Baileys: What is the difference?
Kahlua and Baileys are two amazing drinks that are loved by many liqueur enthusiasts around the world. Each of them has its unique taste but what really happens when they are combined?
Here we'll be discussing all there is to know about these two drinks: their history, ingredients, taste profile, and more. Let's go!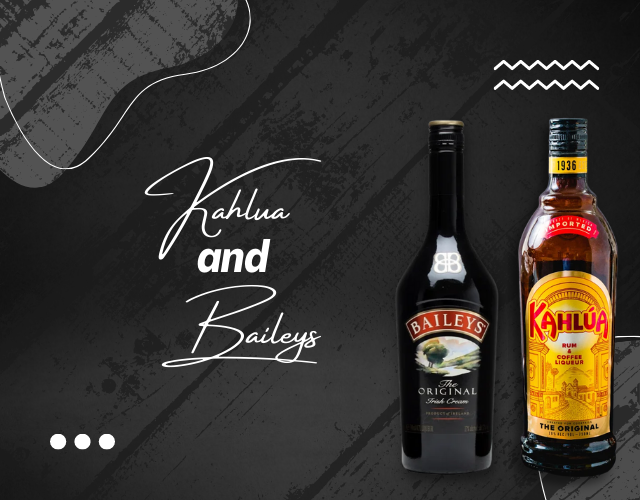 What are Kahlua and Baileys?
Kahlua and Baileys are two alcoholic beverages that have been around for a while. Kahlua is a coffee-flavored liqueur, created by Pernod Ricard and Keurig Dr. Pepper in Mexico. 
On the other hand, Bailey's Irish Cream is another popular creamy drink with whiskey inside its ingredients list. Although they're quite different from one another, they're both very common among mixed drinks.
The History of Kahlua and Baileys
In the past decades, cocktails have been constantly growing in popularity with people around the world. This is why it's no surprise that many alcoholic companies started creating their versions for this drink genre. As two friends were experimenting with different liquors to enhance the cocktail drinking experience, Kahlua came into existence back in 1936.
The founders of this brand were looking for a way to come up with a coffee-flavored liqueur that could be used in cocktails. After spending years perfecting their recipe, they finally came up with something that would change the world of drinks forever - Kahlua!
As for Baileys Irish Cream, it was also created around 1974 by Gilbey's Ltd Tom Jago.  The company was looking for a product that could be used in the coffee drinks, but also to replace traditional cream. After many attempts, they finally found the perfect combination of ingredients which would later on become known worldwide.
The creator of Bailey's Irish Cream was inspired to create something that reminds him of his Irish roots - so he came up with an original cream liqueur that's made with Irish whiskey and different ingredients. 
It was only in 1974 that this drink started appearing on the shelves of liquor shops, and since then it has been one of the most popular mixed alcoholic drinks out there - next to Kahlua!
How are they Made?
Kahlua and Baileys are made with different ingredients, but both of them have similar processes for creating the final product.
For Kahlua, the ingredients include:
Coffee beans
Sugar cane molasses or sugar
Vanilla extract
Rum
As you can see from the list above, this drink is a combination of many flavors that come together to create the best-tasting coffee-flavored liqueur out there.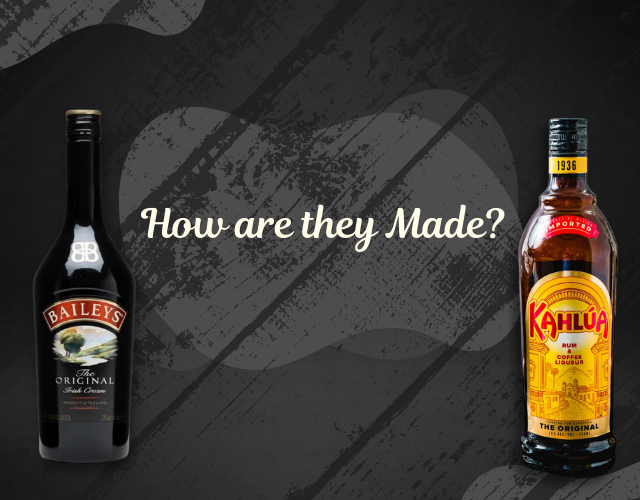 Although it seems like a simple process, without all of these ingredients Kahlua wouldn't be able to taste as amazing as it does today.
As for Baileys, the ingredients include:  
Cream
Sugar
Irish whiskey
Flavorings
Bailey's is also a combination of many different ingredients that come together to create the best-tasting Irish cream liqueur out there. Although it might seem like they just put everything in this recipe without giving it any thought, all these flavors are carefully selected so their final product tastes amazing.
Where are they Made?
Both Kahlua and Baileys are produced by different companies. Kahlua is largely produced in Veracruz Mexico while Bailey's main production center is located in Ireland.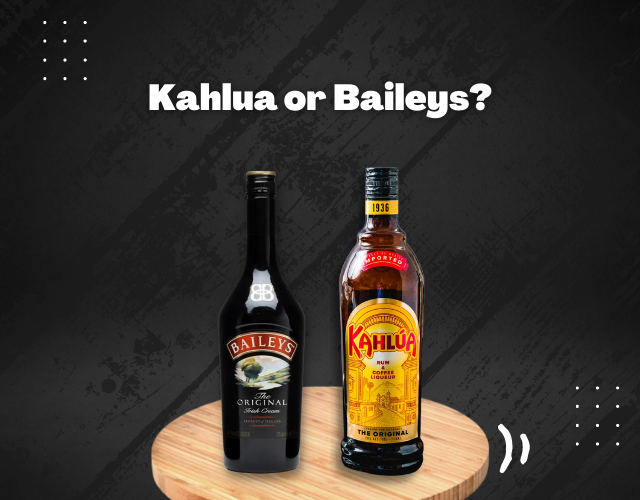 Which One Is Better – Kahlua or Baileys?
Kahlua and Baileys are both tasty options for a drink. However, which one should you choose from the two of them depends on what you typically like to eat/drink. If you're looking for something sweet with chocolate notes, Baileys is your best bet.
On the other hand, if you're looking for something creamy with coffee notes, Kahlua is your best bet!
Do they Taste Similar? 
Although Kahlua and Baileys are both creamy drinks that are made with liquor, they're not similar. Kahlua is more coffee-flavored than Baileys - which comes off as sweeter and creamier in general. 
This doesn't mean it's better or worse though, because there are people who prefer one over the other! If you want to try them both out for yourself, go to your local liquor store and ask for a Kahlua or Baileys. Take the bottle home, chill it in the fridge overnight (if possible), and drink up.
What Makes Kahlua and Baileys Unique?
Kahlua is made with different flavors such as vanilla, coffee beans, cocoa beans, cinnamon bark oil - just to name a few. These ingredients make this liqueur stand out from the rest of the crowd, and that's why it has such a distinctive taste. Its flavor profile is composed of coffee, vanilla, and caramel notes - which make for an exquisite mix you'll enjoy!
As far as Baileys goes, its main flavors are those of chocolate and cocoa beans. It has a very creamy taste, which is why it's so popular among different types of mixed drinks. It goes well with most alcoholic beverages out there - whether you prefer beer or wine!
What Are the Best Recipes to Make with Kahlua and Baileys?
Kahlua mixes perfectly with all kinds of dark liquors such as whiskey and rum. You can try mixing them both with cola, milk, or even lemonade. Baileys also blends well with a variety of drinks.
Recipes made with Kahlua
Kahlua mudslide
Kahlua Expresso Martini
Kahlua Black Russian
Kahlua and coffee
Kahlua Brown Cow
Kahlua Mocha 
Kahlua Salted Caramel White Russian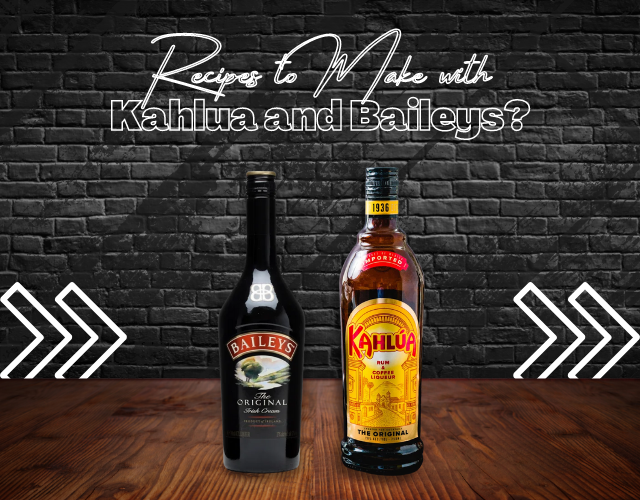 Baileys Cocktail
Baileys cupcakes
Baileys Cheesecake with Oreos
Baileys trifle

Bailey's white chocolate with fudge
Baileys Pavlova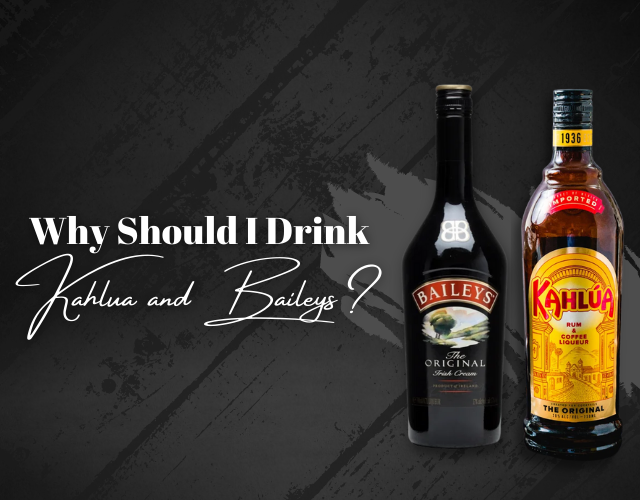 Why Should I Drink Kahlua and Baileys?
Kahlua is very popular among coffee drinkers, especially on cold days when you want to drink something hot. It's also wonderful for desserts after having a nice meal with family or friends.
Baileys can be enjoyed all around the world thanks to its creamy, smooth and rich taste that enhances most types of drinks. It's usually served in the form of an 'Irish Car Bomb' (Baileys, Jameson Whiskey, and Guinness Stout Beer), but some people prefer it over ice or mixed with another type of alcohol - like vodka!
Why Are Kahlua and Baileys Popular?
The love for Kahlua's taste and unique flavor has become a worldwide phenomenon! This has made it gain popularity over the years. On the other hand, Baileys was first introduced in 1974 by the Irish Dairy Board. It quickly became popular. Its creamy and delicious taste won the hearts of many making it popular.
The Difference Between Kahlua and Baileys
There are many differences between these two drinks and they're all pretty important to take into account!
Taste; Kahlua has a very intense coffee flavor, while Baileys is creamier and sweeter.
Origin; Kahlua is made in Mexico while Baileys comes from Ireland. 
Price; Kahlua is more expensive than Baileys, but this has nothing to do with quality - just brand recognition.
Flavors; Kahlua has different flavors that make for a unique taste, while Bailey's main flavors are chocolate and cocoa beans.
Ingredients; Kahlua is made with natural ingredients like vanilla, coffee oil, or cinnamon bark - just to name a few! On the other hand, Baileys contains milk which makes it creamier than its counterpart.
Alcohol content; 

Kahlua has higher alcohol content than Baileys, which is why it's usually mixed with cola or other beverages.
What is the Alcohol Content of Kahlua and Baileys?
Kahlua has a total of 20% alcohol by volume, while Baileys is slightly lower with 17.0%. The amount of alcohol in them both depends on the type you buy - some are higher than others! Make sure to check out your local liquor store for more information about their strengths before buying one or the other.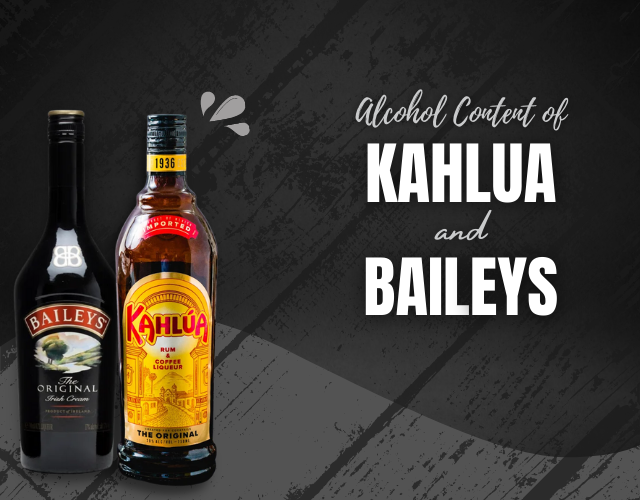 Where Can I Buy Kahlua and Baileys?
Both Kahlua and Baileys are sold at most liquor stores worldwide - you can buy them both either online or in-person at a bar. Both drinks are sold at many different stores all around the world, so if your local liquor store doesn't carry them - make sure to check out other locations in your area!
What is the Price Range?
The retail price of both drinks varies depending on where you live, but it's estimated that each bottle costs around $20-$ 30. You should check with your local store to have a better idea of the price range you should expect.
Who Should Drink Them?
Both drinks are great to share with friends and family, but they're also perfect for people who like sweet alcoholic beverages! However, the drinks are only recommended for people over the age of 21.
What is the Best Time to Drink Kahlua and Baileys?
Both Kahlua and Baileys are great to drink during the holidays, but you should also feel free to enjoy them whenever you want! If it's cold outside, then go ahead and make yourself a hot cup of coffee with some Kahlua. You can even add in some chocolate or vanilla ice cream for an extra sweet treat.
Baileys is also a great drink to have when it's cold outside, but you can also enjoy this creamy liqueur with other drinks like hot chocolate or coffee.
How Do I serve Them?
You can have them on their own, but they also taste great when served together in a drink. You can have them served on ice, have them mixed into other drinks or even enjoy them over ice cream.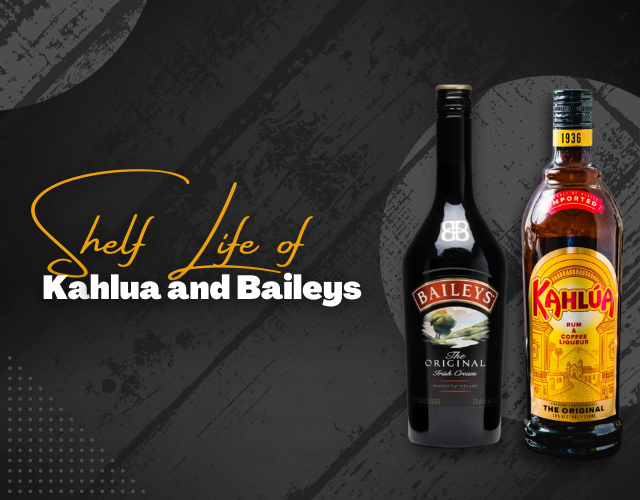 What is the Shelf Life of Kahlua and Baileys?
Kahlua has a shelf life of up to four years, while Baileys only lasts for two years. The shelf life varies depending on the type you buy. Some of them last up to three years while others only last around one year!
Additionally, other factors like storage also have an effect on these drinks. To make sure that you maximize their shelf life, it is recommended that you store them in a cool, dry, and dark location. Make sure to check out your local liquor store for more information about their shelf lives before buying a bottle or two.
Nutritional Facts of Kahlua and Baileys?

Kahlua has a lot of fat and calories. It's composed of 18g of fat, 300 calories, 32g carbohydrate, 4g protein, and 26g of sugar. Baileys is made with milk so it contains a large amount of protein per serving! In addition to that it contains; calories -139g, carbs-9.3g, protein-0.8g, fat-3.7g, sugar 7.8g
Health Benefits of Kahlua and Baileys?
Both drinks have caffeine as well as a large amount of sugar, but they also contain some nutrients. These include calcium, potassium, and magnesium! In addition to that, Kahlua contains vitamins B12 and E which are both important for the body. Baileys is low in calories making it great for anyone who's trying to lose weight.
Conclusion
Kahlua and Baileys are two great-tasting drinks that are perfect during the holidays! These two are special because they are used to making other drinks too! Besides their great taste, they also come with added health benefits as well. They're sold at most liquor stores and are great to share with a loved one!
10% OFF our entire store with coupon code "10OFF" at checkout
MEDICAL DISCLAIMER
This content is for informational and educational purposes only. It is not intended to provide medical advice or to take the place of such advice or treatment from a personal physician. All readers/viewers of this content are advised to consult their doctors or qualified health professionals regarding specific health questions. Neither Dr. Charles Livingston nor the publisher of this content takes responsibility for possible health consequences of any person or persons reading or following the information in this educational content.
All viewers of this content, especially those taking prescription or over-the-counter medications, should consult their physicians before beginning any nutrition, supplement or lifestyle program.