How to Make Espresso Without an Espresso Machine
How good is an espresso?
The smooth, rich and robust flavor that we cannot get enough of. The jolt from each cup as the caffeine kicks in. These are why we love it. These are what perks up our mornings. 
Many people are unaware that you can make espresso at home without the expensive coffee machines.
Read on and find out how and more about espresso. 
What is espresso?
Before we continue, let us give a brief description of espresso for those who are new to the coffee world. Espresso is a coffee drink that originated in Italy. It is a small, concentrated coffee that is served in shots (an ounce more or less) with an almost golden-brown foam on top called crema. 
It contains a higher caffeine level than ordinary coffee. Espresso can have 29-100 milligrams of caffeine for a single serving. It is served at a temperature of about 190 degrees Fahrenheit. Espresso is Italian, which translates to coffee expressly made for you. The name is taken from the coffee-making process that involves a 25-30 brewing time.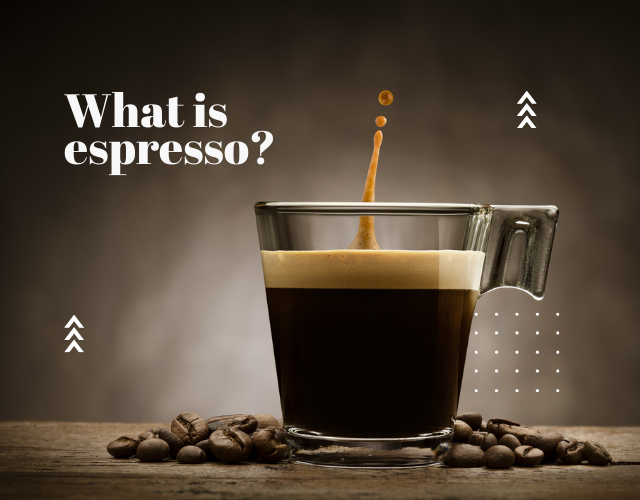 Espresso Coffee
The Italians love their espresso. Ever since the first espresso machine was created in 1894, it has become a popular local beverage. It did not take long before it spread all over the world. If you go to Italy, you might notice that they have a kind of ritual in drinking their espresso. While it is called a shot, it is not meant to be drunk in a single gulp. It is taken in little sips while enjoying the smell of the aroma. 
You can add sugar or any sweetener to counter the bitterness. Even the Italians find it acceptable. We love espresso for its strong, dark, and powerful coffee flavor. That is the true essence of the espresso. It can be can only be fully appreciated if taken plainly without any additives. 
Making an espresso
There are three important aspects of espresso making. The process involves roast, grind, and brewing pressure. The combination of these aspects results in a perfectly made espresso. Let us learn about them before we go to the espresso-making process.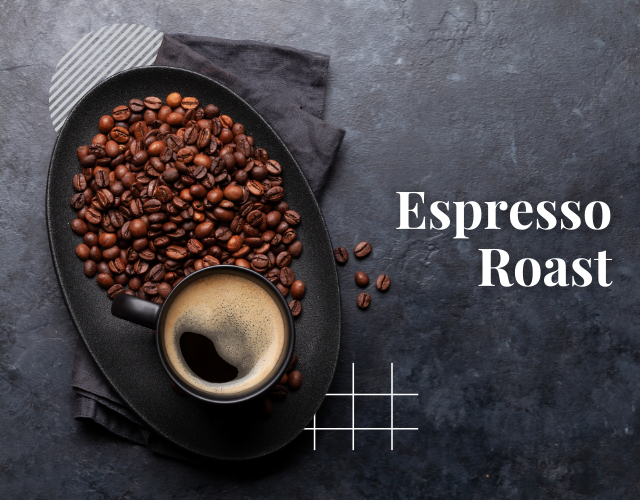 1. Espresso Roast
Espresso roast has a stronger flavor than your ordinary drip coffee. The espresso beans are fully roasted until they become very dark and shiny. 
The roasting process makes small holes in the beans that let water in. It allows faster and easier extraction of coffee soluble from the beans. It results in a richer coffee flavor. 
Espresso bean vs. regular coffee beans
There is no specific variety of coffee beans that are used to make espresso beans. Espresso beans become espresso beans after they are roasted to achieve a shiny and oily black finish. It is the roast that separates an espresso bean from a regular coffee bean. 
Regular coffee beans can be either light or medium roasted. You can use this to make espresso, but it will not capture the authentic strong taste of espresso. The resulting beverage can be strong, but it is mainly due to the coffee and water ratio. To make a perfect espresso, use dark roasted coffee beans. 
Lifeboost espresso roast coffee
Lifeboost organic espresso roast coffee is our recommended roast coffee. This top-of-the-line espresso bean product is bursting with flavor and energy. The Lifeboost beans come from Arabica coffee beans cultivated to maturity in the mountainside in selected Nicaraguan farms.  
The beans are carefully inspected and hand-selected. They are premium beans, the cream of the crop of the harvest. It then goes through a process of washing, drying, roasting, and resting. These remove harmful myotoxins and ensure a rich flavorful coffee.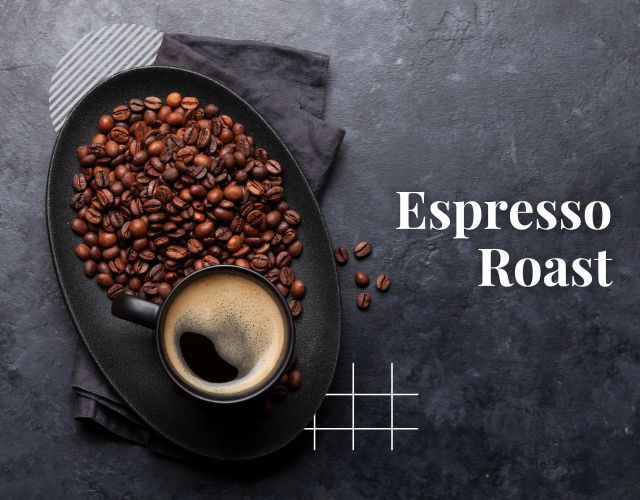 2. Espresso Grind
Coarsely ground coffee will work well with cold brew, but for espresso, it definitely will not. Espresso is produced using slow water penetration and high pressure. For this, it needs a very fine coffee grind. 
But there is also such a thing as too fine a grind. If the coffee powder is too fine, the water will not be able to penetrate. The coffee grind will cause a blockage. So, it needs to be ground to perfection. 
Grinding your coffee
There are two ways to grind coffee beans. 
The first one is by hand using mortar or pestle, rolling pin, and other manual tools. The problem with this is it will take a lot of time and effort. If you want the exercise, then why not? But it is harder to get a precise grind. If you are a coffee enthusiast, you will most likely have a coffee kit including a grinder. 
The second one is using an automatic burr grinder. If you are going for precision and consistency, this is the way to go. The burr grinder will give you a more predictable result. Most models have settings for specific brewing methods. 
3. Espresso Pressure
Espresso is a product of pressure. Espresso machines force super-hot water through the finely ground coffee powder using high pressure. It should reach at least nine bars of pressure or nine times the atmospheric pressure.
If you do not realize just how much pressure this is, it is about 130 pounds of pressure per square inch. That is twice the pressure in an average tire truck. Without a machine, it is not possible to create that amount of pressure.
When making espresso, the ideal equipment is an espresso machine because it is built for that purpose. But you can still make espresso using different tools. Find out how below. 
How to Make Espresso Without An Espresso Machine
No espresso machines? No worries. You can still have your daily caffeine fix. Let us be resourceful. Here are four ways you can become a barista.
Disclaimer: These alternative methods do not produce authentic espresso drinks. It is because they cannot create enough pressure. In the absence of an espresso machine, these are the best tools for the job.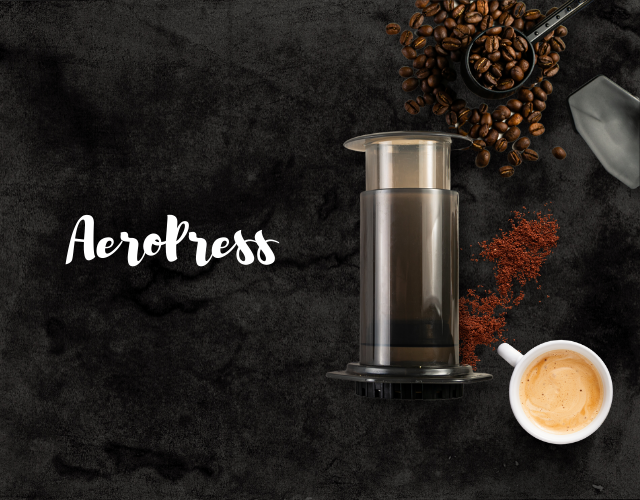 1. AeroPress
It is a cylindrical container with a plunger that pushes air down the chamber. It creates pressure that forces the water through the coffee grind and filter and into your cup. The process takes about 30 seconds.
This coffee-making tool is simple and convenient. It is great for making a double shot espresso. But for this recipe, we will need to cut that in half.
You will need:
·       AeroPress
·       Burr coffee grinder
·       Measuring spoon (tablespoon) or a scale
·       Kettle (stovetop or electric gooseneck)
·       Freshly roasted dark coffee beans
·       8 oz or 234 mL of water
What to do
Put the tools on the counter, and let us get brewing. 
a. Heat water
Place a water-filled kettle on the stove and let it boil. Ideally, the coffee should be brewed at a temperature of 205°F (96°C), just before it boils. 
But since we are improvising, you can try temperatures between 185°F (85°C) 205°F (96°C) and find out what works best for you. 
b. Prepare the coffee
Using the burr grinder, ground your coffee beans finely. You can choose a setting above 5 to yield a powdery consistency. Set aside.
c. Rinse the filter
Place the filter in the drain cup. Rinse it with water to wash off the dust and the papery odor. It avoids contamination of flavor. 
d. Prepare the cup
After rinsing, place the drain filter on the AeroPress and put it on your coffee mug.
Tip: Use a sturdy cup and place it on a stable surface before pressing to avoid making a mess. 
e. Tamp down the coffee
Carefully put the coffee grounds in the AeroPress. Press it gently with a tamper. The coffee ground should be packed and snug. 
Tip: If you do not have an espresso tamp, you can use any clean cylindrical tool with a flat bottom. 
f. Pour the water
Using a scale, measure 120 ml of freshly boiled water (1/2 cup). Pour it in the AeroPress and give it a quick stir.
g. Press the plunger
After stirring, let it rest for 30 seconds. Hold the plunger firmly. Give it a steady push. 
h. Serve
There you have it, your homemade espresso in just 5 minutes. Serve and enjoy.
Cleaning your AeroPress
Cleaning an AeroPress can be done in 3 quick steps.
·       Open the drain cup. 
·       Push out the used grind using the plunger.
·       Run it with hot water.
Tip: Recycle used coffee grounds as compost. Add them to the soil.
Why use AeroPress?
The Aero-press is a convenient and flexible coffee tool.
Its simplicity makes it user-friendly. Also, it yields the best result in just a short amount of time. 
2. Moka pot
The Italians truly know about the finer things in life. The Moka pot was created in Italy in 1933 like the espresso machine and the espresso. It is a simple yet ingenious invention. Over the years, Moka pot traveled to other countries like Latin America and other European countries. 
It is traditionally heated on a stovetop. But today, you can find an electric version of it. Enough of that. Let's start brewing!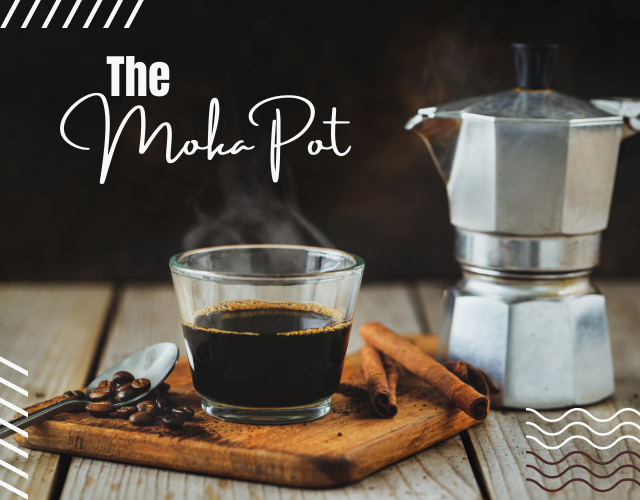 Ingredients and tools
·       Moka pot
·       Burr coffee grinder
·       Measuring spoon (teaspoon) or a scale
·       Coffee beans (Dark roast)
·       Water
Steps
Gather up your tools, and let's get right on it.
a. Grind the coffee
Measure 20-22 grams of coffee beans in the scale. It is equivalent to 4-4 a1/2 teaspoons. Place the coffee beans in the burr grinder and grind to a caster sugar texture. 
b. Pour the water
Fill the bottom of the Moka pot with water. Make sure the water touches the line. 
Tip: Do not put too much water because it will dilute the strength and flavor of the coffee. 
c. Prep the coffee
Put the coffee powder into the Moka pot basket. Put the lid on top.
d. Brew the coffee
Pop the Moka pot on the stove and turn the burner on to medium heat. If you have the electric version, just plug it in. You will hear a hissing sound when the water boils and turns to steam. The heat and pressure will push the steam upward through the coffee grounds. It will condense into coffee in the upper section pot. 
e. Serve
You will see a brown coffee foam form in the upper pot just before it's done. Once the pot is filled with coffee brew, turn off the heat, stir, and transfer the coffee to your favorite cup. Voila, a freshly brewed espresso substitute. 
Cleaning your Moka pot
·      Before you clean your Moka pot, let it completely cool down. 
·       Remove the lid and dispose of the grounds as you please. Rinse each section of the pot with water and let it dry.
Why use Moka pot?
The Moka pot is a simple yet classy way of making coffee. Although, you may need to try a few times before you get the brew that's perfect for you.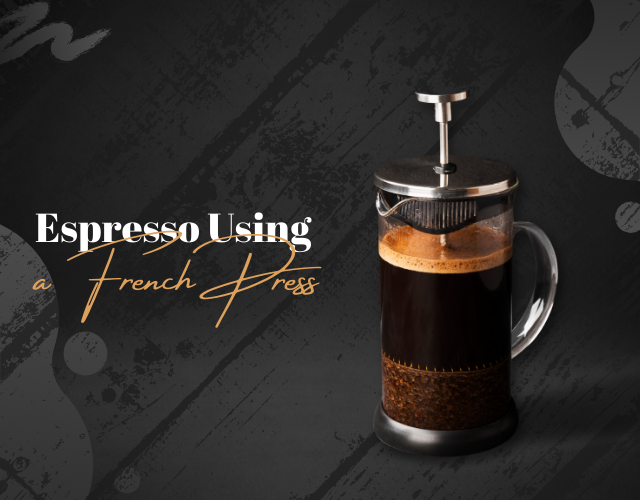 3. How to make espresso using a French press
French press is known by many names like stamppot, coffee press, cafe tiers a standoff, and coffee plunger.
It usually uses coarsely ground coffee. But today, we will be using it to make our espresso.
You will need:
·       French press
·       Kettle (stovetop of electric gooseneck kettle)
·       Burr coffee grinder
·       Measuring spoon (teaspoon) or a scale
·       Dark roasted coffee beans
·       Water
What to do
a. Grind the coffee
Put two tablespoons or 28.3 grams of coffee beans for every one cup of water. Grind it to a very fine consistency.
b. Heat the water 
Fill kettle with water. Pop it on the stopover medium heat.
c. Place coffee in the French press
While waiting for the water to boil, put the coffee ground in the French press.
Tip: Use double the amount of coffee ground that you normally use for your French press to give a stronger and richer coffee flavor.
d. Let the coffee bloom
Once the water boils, turn off the stove and set it aside for 30 seconds. Add a few drops of water to the coffee grounds. Let it rest and bloom for at least 30 seconds.
Blooming the coffee lets the oils and aromatics seep out of the coffee grounds. 
e. Pour the water
Slowly pour water over the coffee grounds. Do not attempt to stir or shake the container. It may cause the grounds to fall. 
f. Steep
Put the lid over the French press and let the coffee steep for at least 4 minutes. A longer steeping time will yield a stronger coffee. But too long will cause over-extraction, which results in a bitter and dry tasting coffee.  
g. Press the plunger
Press the plunger halfway first. Raise it and plunge again until it presses onto the coffee grinds. When pressing the plunger, do it slowly and with even pressure. 
h. Serve 
Transfer the coffee to a mug or a serving pot and enjoy.
Why use the French press?
The French press is the least effective tool in this list when it comes to making expresso. But if you do not have other options, it can work. It can give you a rich coffee shot that you are craving.
4. How to make expresso using a manual machine
Coffee enthusiasts who prefer traditional methods will love using the manual coffee machine. Without an espresso machine, this is the best tool to make espresso. 
You will need:
·       Manual coffee machine
·       Burr coffee grinder
·       Measuring spoon (teaspoon) or a scale
·       Dark roasted coffee beans
·       Water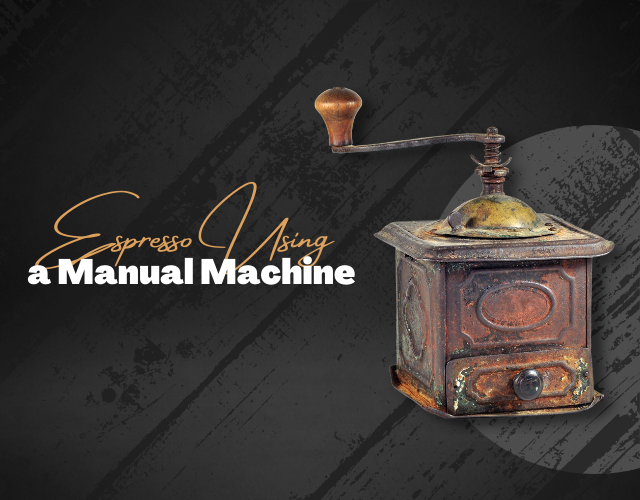 What to do
a. Turn on the manual coffee machine
Put 2-3 cups of water in the water reservoir. Turn on the machine and let it heat up for 5-6 minutes.
b. Grind coffee
While waiting, ground 20 grams of coffee using the burr grinder. 
c. Tamp the coffee
Remove the portafilter from the machine and put the ground coffee powder. Tamp it gently using an espresso stamp or a spoon. 
Tap the portafilter on the counter and tamp it again to make sure the grind is nicely packed. After which, attach it to the brew head. 
d. Brew coffee
Raise the lever slowly. Pause for at least 10 seconds upon reaching the top. Then slowly pull down the lever.
e. Serve
Pour the brew into your cups and enjoy. 
Tip: For the best espresso experience, preheat the cups before serving. You can do this using a microwave or boiling the cups in water.
Why use the manual coffee machine?
It takes skill to use them masterfully use the manual coffee machine. It may take you a couple of tries before you get the coffee taste that you will love. 
Frequently Asked Questions (FAQs) on alternative methods
Can you make espresso with a Keurig?

Unfortunately, Keurig models cannot make espresso. They can not generate the needed pressure to create an authentic espresso drink. 

 

But you can make a concentrated espresso-like drink using a Keurig. Follow these steps.

 

What to do:

a. Set your machine to the smallest brew size.

b. Choose the darkest and strongest coffee pod you can find.

c. Brew and enjoy.

Can you make espresso with a regular coffee maker?

Again, we are sorry, but the answer is no. Although, like the Keurig, you can make a strong coffee shot. Try it out. 

 

What to do:

a. Grind your coffee beans to a medium-fine grind.

b. Fill the water reservoir with warm filtered water. Use 2 oz of water for every tablespoon of coffee ground. 

c. Turn on the coffee machine and let it do its magic. 

Can you make espresso with a Ninja coffee bar?

We are not surprised that you are asking, since Ninja advertises its product to make all types of coffee. But does not have an espresso setting. 

 

Like all coffee machines, you can use the Ninja coffee bar to make a strong coffee shot. You can even use it to make a coffee base for other coffee drinks. 




How do you do that? 

a. Choose a stronger coffee brand.

b. Decrease the amount of water.

c. Increase the amount of coffee.

It's as simple as that. 

Can you make espresso using the pour-over method?

The answer is no. The espresso-making process is very different from the pour-over method. 

 

Authentic espresso-making involves the use of extreme pressure to force hot water through the coffee ground. The heat and pressure cause the coffee to release the most coffee flavor into the coffee brew. It results in a rich and robust coffee drink.

 

On the other hand, the pour-over method is much more passive. It relies on gravity to extract the coffee soluble from the coffee grind.

 

These methods are opposites of each other.
Final words
There is no need to buy expensive equipment that is beyond your pay to get your caffeine fix.
The great thing about coffee is it's highly versatile and customizable. You can make a psuedopresso at home using available coffee tools.  Check out Lifeboost Coffee for the healthiest and tastiest coffee possible. You just have to be creative and resourceful. 
Happy caffeinating. 
10% OFF our entire store with coupon code "10OFF" at checkout
MEDICAL DISCLAIMER
This content is for informational and educational purposes only. It is not intended to provide medical advice or to take the place of such advice or treatment from a personal physician. All readers/viewers of this content are advised to consult their doctors or qualified health professionals regarding specific health questions. Neither Dr. Charles Livingston nor the publisher of this content takes responsibility for possible health consequences of any person or persons reading or following the information in this educational content.
All viewers of this content, especially those taking prescription or over-the-counter medications, should consult their physicians before beginning any nutrition, supplement or lifestyle program.