Gwyneth Paltrow's Favorite Blondies
I created these Blondies while cooking for Gwyneth and her family during the filming of the first Ironman movie in LA. Gwyneth loved them so much she featured the recipe on her lifestyle site GOOP!
They're also a favorite of the Spielberg family and I've sent them via courier on a few occasions when they just had to have some! Fitness guru/trainer Tracy Anderson also loves these tasty treats and adores my chocolate brownie version, which I have also included below.
NOTE: The original recipe is delicious and a bit decadent, but you can use organic sugar and butter. I have included my healthier recipe version of the Blondies too and they are good, but the original recipe ROCKS and is at the top of my 20% food list. (The 80/20 rule is something  that Dr Charles Livingston, Miranda Kerr and many others follow: 80% really clean and healthy and 20% of whatever tickles your fancy.) Yum!
This recipe calls for either peanut butter chips or white chocolate chips and you can find healthier versions at your health food store or online.
MAKES Approx. 12 large and 24 small
PREP TIME 20 minutes
BAKING TIME 30–35 minutes
Ingredients
1 cup organic butter (room temp.)
¾ cup each organic white and brown sugar
2 large eggs
2 tsp vanilla essence
1¼ cups organic all-purpose flour
½ tsp non-aluminium baking powder
½ tsp sea salt
1 cup shredded coconut
¾ cup white chocolate chips or peanut butter chips
¾ cup small marshmallows (or large ones cut into small pieces)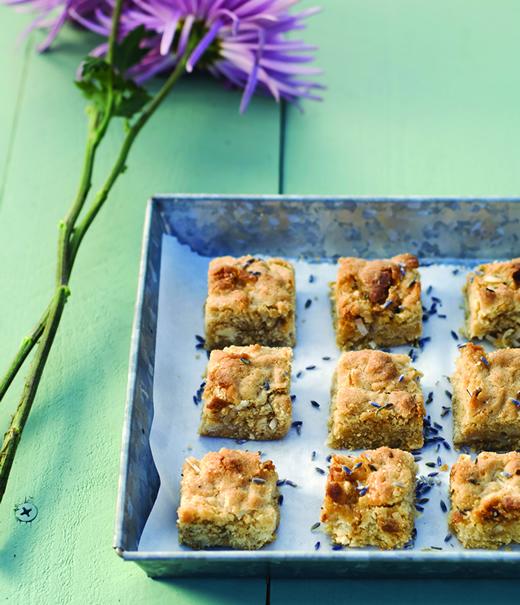 Method
Preheat oven to 350ºF and line a baking pan (approx. 8in x 12in) with baking paper.

Using an electric mixer, combine the room temperature butter, white sugar and brown sugar together until creamy. You can also mix the Blondies entirely by hand, but believe me—from experience—it's quite an arm workout! Then add the eggs and vanilla and mix well.

In a separate bowl, mix together the flour, baking powder and sea salt. Then add the flour mixture to the batter slowly and mixwell.

Add the shredded coconut, white chocolate chips and marshmallows and mix until combined.

Spread the mixture into the prepared baking pan and bake for approx. 15 minutes, then check and cover the Blondies loosely with baking paper so the top does not burn. Continue baking for approx. 12–15 minutes longer until the insides are a bit firm. They should still be a little soft and chewy inside when done.

Remove from oven and allow to cool before cutting into pieces. The Blondies will keep for up to 5 days in an airtight container or you can freeze for up to 1 month.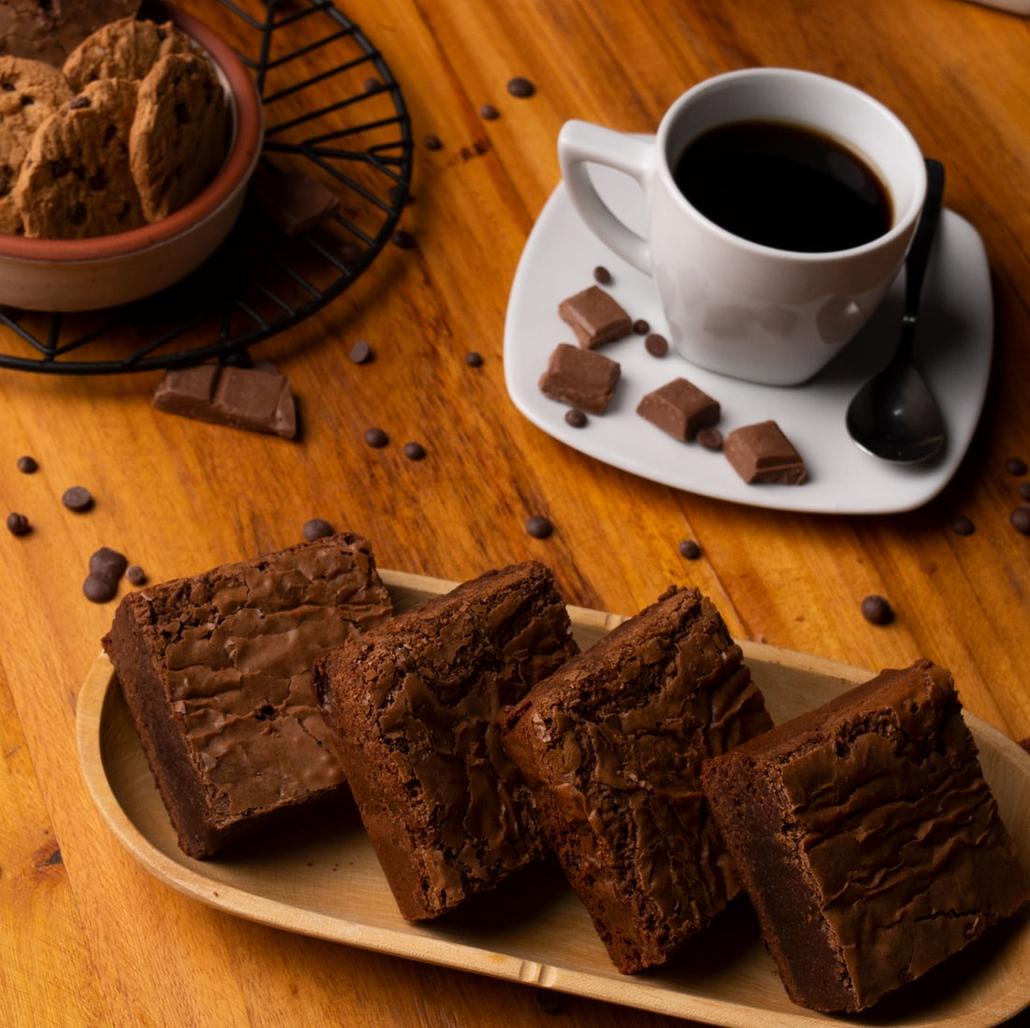 Healthy Version
Use the original Blondie recipe and baking instructions. Use ghee or coconut oil instead of butter. (Butter works best, however, so use organic butter if you like.)
Then substitute½ cup of rice flour, ½ a cup of coconut flour and 1 cup of almond meal in place of the 1¾ cups all-purpose wheat flour. You can also use a gluten-free flour mix.
NOTE: When using these alternative flours the Blondies take less time to bake, so check them after 15 minutes and cover sooner. The baking time will depend on the pan you use, so keep an eye on them. The white chocolate chips and marshmallow are harder to find with natural, healthy ingredients, but they do have some brands you can buy in the health food stores or online.
I've also made them with alternative sweeteners including coconut sugar, honey or rice syrup, but they do work better with organic white and brown sugar.
Original Chocolate Brownie Version
These are a favorite of LA-based fitness sensation Tracy Anderson with clients including Gwyneth Paltrow and Madonna.

Use the original Blondie recipe and baking instructions, but add 1 cup of cacao powder, an additional 1⁄2 cup organic white sugar and add dark chocolate chips instead of white chocolate chips.
For a little coffee flavor you can also add 2 tablespoons of a very strong brewed and cooled Lifeboost Coffee when you add the eggs and vanilla! YUM!!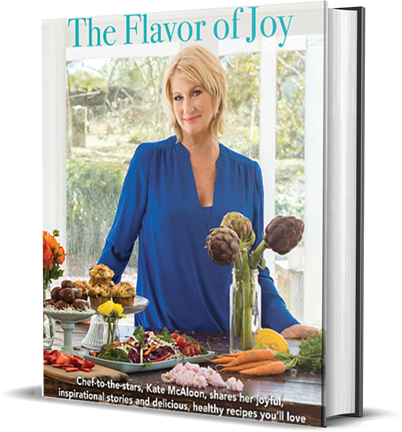 Kate's been a Celebrity Personal Chef for over 20 years and more recently an author.
She's passionate about bringing people together through food, celebration and community. Traveling is one of her greatest joys and truly inspires her recipes with flavors from around the world.
Being blessed with a natural talent for creating healthy food with amazing flavors has made her cooking a favorite among some of the world's most well known celebrities such as, Dwayne 'The Rock' Johnson, Orlando Bloom, Gwyneth Paltrow, Miranda Kerr, The Spielberg family,  Megan Mullally & Nick Offerman, Courteney Cox, Sheryl Crow, David Arquette and Meg Ryan.
Chef Kate's book, THE FLAVOR OF JOY is more than a cookbook. Kate's included stories to inspire, amuse, and uplift, as well as delicious, healthy recipes, tips, and a few of her more memorable celebrity kitchen mishap stories as well as some of her clients favorite dishes.
Her book is now available in the US! It was originally released in Australia, where she lived the last 8 years, but she's back in the states now and excited to share her book here too!
You can find the book on her website www.theflavourofjoy.com
Facebook    Chef Kate McAloon
Instagram   @ChefKateMcAloon