This recipe is courtesy of one of our customers! Hope you enjoy it!

Coffee and chocolate are the perfect pairing for all kinds of desserts, and nothing speaks to that more than these Dark Mystery Truffles! A creamy, mocha truffle center is drenched in a dark chocolate/coffee shell, with whole ingredients that are actually good for you. They are dairy and gluten-free-- yet taste so decadent!
Ever since I started cooking and baking, I've made it a habit to add brewed coffee to many of my chocolate dessert recipes. Using a good coffee (like Lifeboost ) deepens and enriches the flavor of the chocolate without overpowering it. These little treats are wonderful with a cup of Lifeboost coffee—another perfect pairing!

Both coffee and chocolate are antioxidant superstars, in fact, the coffee bean ranks among the highest of all antioxidant foods on the planet! Coffee is very rich in antioxidants that include polyphenols and hydrocinnamic acids — which may improve health and reduce your risk of several diseases.
So, enjoy these indulgent Dark Mystery Truffles, knowing that you're providing your tastebuds and your body with a superfood treat!

Course: Dessert
Keyword: Coffee Chocolate Truffles, Vegan Mocha Truffles, Dark Mystery Truffles
Prep Time: 10 minutes
Cook Time: 5 minutes
Chilling/Freezing: 2 hours 15 minutes
Total Time: 2 hours 30 minutes
Servings: 14
Ingredients:
    

            Mocha Center
1/4 cup coconut oil
3 tbsp pure maple syrup
2 tbsp almond butter, natural (unsalted)
2 tbsp strong brewed coffee
1 1/2 tbsp cacao powder (can use cocoa)
1 tsp instant coffee powder
1/8 tsp salt

Chocolate Coffee Glaze
1/4 cup semi-sweet chocolate chips
1/2 tbsp coconut oil
2 tbsp strong brewed coffee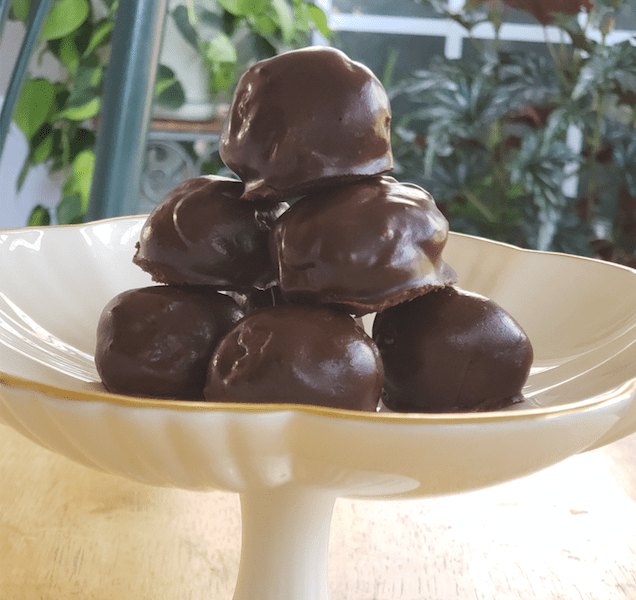 Method
First make the mocha center:

Combine all ingredients into a small bowl and heat in microwave for 1 -2 minutes on medium, stirring/whisking until smooth and combined.

Place mixture in fridge and let set up for at least two hours, or until very firm.

When mixture is very firm, scoop out a teaspoon at a time, roll into a 1" ball with the palms of your hands (it helps a little to run your hands under cold water first). Place balls on a parchment-lined sheet and place in freezer for 15 minutes to harden up.



Meanwhile, melt together all the glaze ingredients in a small bowl in the microwave for about 1-2 minutes on medium. Stir until smooth and glossy.

Remove chilled mocha balls from freezer. With a spoon, dip each one into the melted chocolate and place on a parchment or wax paper-lined sheet.


Place in fridge to firm up for about 15 minutes.

Optional:

You can make extra chocolate glaze and dip in glaze a second time for an even richer truffle. Let it chill, serve and enjoy!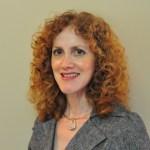 Lenora Dernoga is a plant-based advocate and holistic nutritionist. 
Her website, CurlyRedCafe.com, is devoted to providing information, recipes and resources on the benefits of plant-based eating.  

She also occasionally gives plant-based cooking classes in her home, and is a long time chocolate and coffee devotee!