5 Ways to Improve Your Caffeine Routine
Ever get bored of drinking the same old coffee every single day?
If so, take a look at these simple 5 tips to spice up your caffeine routine.
This covers specialty beans, go-to brands, the truth about healthy coffee, eco-friendly pods…
And even a 30-second trick to turn your morning cup of joe into a superfood concoction.
Take a look!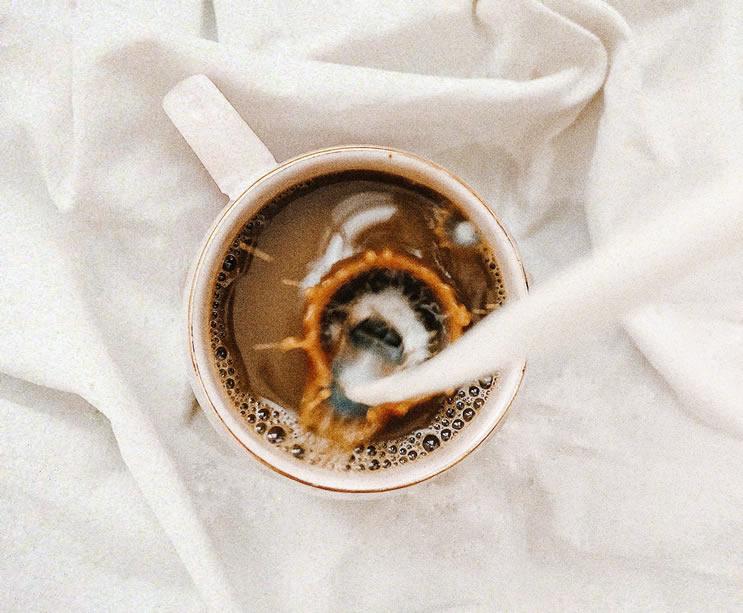 1. Replace Your Favorite Coffee with Specialty Coffee Beans
Most coffee drinkers accept the bitter aftertaste as just part of drinking coffee. But that's not true!
The bitter aftertaste in your coffee comes from your coffee brand using Robusta coffee beans. A bean that is bitter, lower in quality, and often used in cheap, instant coffee. Specialty coffee only uses Arabica (or specialty) coffee beans, which have superior quality compared to Robusta beans. By brewing your coffee with specialty coffee beans, you can start enjoying a smooth, flavorful coffee with no unpleasant aftertaste.
2. Find A Go-To Coffee Brand That Never Disappoints
Ever wondered why your favorite coffee tastes different from bag to bag?
Possibly even from cup to cup? That's because a lot of coffee brands sell blended coffee. A literal mixed bag of coffee sourced from dozens of different growers. Sourcing from so many different growers makes quality control impossible, leading to a coffee experience as unpredictable as the weather. Depending on the day, you could get a batch of beans that tastes divine or a batch riddled with poor quality beans that tastes awful. The only solution is to use single origin coffee. When a coffee brand sources their beans from one place, it guarantees that every bag you order and every cup you brew is just as good as the last.
3. Satisfy Your Taste Buds With Healthy Flavored Coffee
We've all heard of flavored coffee. But you might be avoiding it because you've heard it's not healthy. And you're absolutely right.
Most coffee brands use cheap, stale, low-quality beans for their flavored coffee.
These coffee beans tend to be riddled with mold from being stored for too long. And they often contain heavy metals, pesticides and chemicals from the farms that use preservative methods.
These coffee brands know you'll never taste the difference because the added flavors will hide it. Meaning they get to boost their margins and profit from beans they would otherwise throw out.
And you get a coffee that is riddled with mold, mycotoxins, heavy metals, pesticides and dozens of harmful chemicals.
If you'd like to experiment with flavored coffee, it's wise to get a coffee brand that performs independent 3rd-party testing for these dangerous chemicals.
This helps ensure that you get some delicious variety in your daily coffee WITHOUT the dangers of most flavored coffees.
4. Brew Coffee In Seconds With Eco-Friendly Pods
We've all seen the headlines.
Millions of coffee pods wind up in landfills where they'll spend hundreds of years decomposing and destroying our environment.
So it's tough to enjoy a daily espresso without the pang of guilt that we are slowly killing mother nature with every sip.
In fact, millions decide to stop drinking coffee for this very reason or try brands with reusable or eco-friendly materials.
Fortunately, some coffee brands are now producing 100% compostable, eco-friendly coffee pods.
(More on this down below!)
It's now possible to have a quick coffee every morning and know that you're not contributing plastic to a deadly landfill.
5. Mix In A Tasteless Superfood Collagen Creamer
Sometimes, the only thing you might want to improve about your caffeine routine is YOUR health.
An easy way to make a cup of joe healthier – without altering the taste – is by adding a tasteless superfood collagen creamer.
With this simple tweak, you can add benefits such as:
Younger looking skin, hair and nails
Improving your gut biome for better digestion
Helping your bones, ligaments and tendons become injury resistant
In your same daily caffeine routine.
Now, you might worry that you'll need to start scraping the corners of the internet to find a coffee brand and coffee products that tick all these boxes.
But the best part is… you don't need to!
Lifeboost Coffee is a cutting-edge coffee brand that promises…
Specialty coffee beans that taste rich & smooth with no bitter aftertaste.
Single-origin coffee where each bag & each cup tastes just as good as the last.
Flavored coffees that are 3rd-party tested for over 400 contaminants just like their regular coffee.
Coffee pods that are 100% compostable and eco-friendly for a guilt-free espresso every morning.
An easy-to-add collagen creamer that floods your coffee with extra healthy benefits and superfoods
To find the one thing that will spice your caffeine routine, check out Lifeboost's store at the link below.
Try Lifeboost's Healthy Classic And Flavored Roasts!
Or Get Eco-Friendly Coffee Pods And Mix In Some Collagen Creamer!
MEDICAL DISCLAIMER
This content is for informational and educational purposes only. It is not intended to provide medical advice or to take the place of such advice or treatment from a personal physician. All readers/viewers of this content are advised to consult their doctors or qualified health professionals regarding specific health questions. Neither Dr. Charles Livingston nor the publisher of this content takes responsibility for possible health consequences of any person or persons reading or following the information in this educational content. All viewers of this content, especially those taking prescription or over-the-counter medications, should consult their physicians before beginning any nutrition, supplement or lifestyle program.